Write to your MP and MEP
It is easy – just follow the link below, enter your location, and it gives you his/her email, website, and blog! Do it! They always answer.
Occupied Palestine – PACBI learned today from its Steering Committee member, Dr. Haidar Eid, that the headquarters of the University Teachers Association-Palestine, in Gaza, was bombed by the Israeli occupation forces during their indiscriminate, willful destruction campaign in the Tal el-Hawa neighborhood of Gaza City on Friday.
This latest wanton attack on an academic organization is far from being an exception. It is only the latest episode in what Oxford University academic Karma Nabulsi has termed "scholasticide,"[1] or Israel's systematic and intentional destruction of Palestinian education centers. In its current war on Gaza alone, Israel has bombed the ministry of education, the Islamic University of Gaza, and tens of schools, including at least 4 UNRWA schools, after having largely destroyed the infrastructure of teaching throughout the year and a half of its illegal and criminal siege of the densely populated Gaza Strip.
The UTA headquarters is a detached two-story building that is clearly marked with the Association's name. The bombed structure, which now stands without a roof, has sustained heavy structural damage and may be in danger of collapsing any time.
Start a blog or website!
It is simple, easy and effective, and reaches thousands immediately. If you wish to see what can done, have a look at this one:
Sunday, 11 January 2009
Will Barak Follow in Eichmann's Footsteps?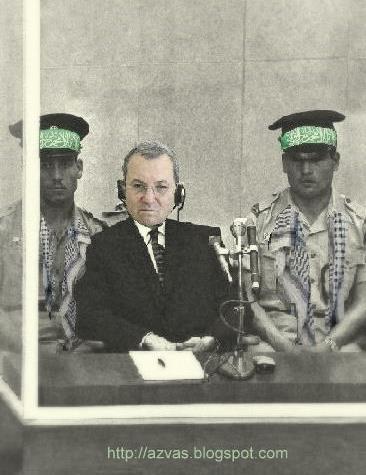 Oy, so many wild dreams I've been having these days, probably because of this war against the mishuggah hamasniks.
Last night, my dream was set in the future, which is very strange because we, the Jewish people, usually fantasize solely about the past.
Oi ever, this dream was set in something like 2020. Ehud'le Barak, Tzipi'le Livni, Shimon'le Peres and Ehud'le Olmert were seeking shelter overseas because of the War Crimes Tribunal. The mishuggenahs in the Hague were blaming them for crimes against humanity, can you believe this narishkeit? When all they did was to kill some arabs.
In my dream, Barak was captured in NYC, schlepping refrigerators and sofas for an Israeli moving company. This is what many Israelis do in Americe once they finish their military service.
This is a very funny blog, but its humour is razor-sharp and directed against the Zionist atrocities.
TUC Aid for Gaza
TUC Aid is launching an appeal for contributions to support emergency humanitarian relief of the people of Gaza following the offensive by the Israeli Army. The TUC has also called for an immediate ceasefire. For more information, please go here: http://www.tuc.org.uk/international/tuc-15812-f0.cfm
Debbie tells of her experience in front of the Israeli Embassy in London: Jan 7, 2009
Today, there was a bit of trouble at the counter-protest outside the Embassy (to the Nuremburg rally). At one point, I decided to get away. The police were walking behind me and for no reason, 2 or 3 of them started shoving me. It clearly didn't bother them that I could have fallen over and been trampled on. I can't remember if I tried to take a photo of them, but one of them later assaulted me.
I had left my banner behind and so decided to hang around a bit to see if I could find it. For my own safety, I sat at the bus stop with another lady. Then, some policemen walked by, one of whom recognised me. He said, 'You were at the demonstration!' as if demonstrators aren't allowed to sit at bus stops, yanked me out of my seat and started to push me! I don't know what he was trying to do to me but he had no right to do that – and he was a big chap. Thankfully, a group of Muslims saw this and bundled over me to protect me from him. 2 other officers pulled him away. I then jumped up, ran towards him and took a photo. It may not have come out properly but he was one of the few black men there so I would probably recognise him. Thankfully, someone took his number (3407) so I will go to police complaints, and get legal advice. I intend to press charges for common assault. Pity I don't have the details of the others but I can probably put in a general complaint.
I did though, earlier on, meet a kind policemen who let me go back to get my rucksack which I had also left behind. One of them had said 'tough', but this one questioned, what was the harm me going back? There was no one around.
Debbie
Letter in the Metro newspaper, Jan 7, 2009
I object to the constant references to Israel as 'The Jewish state'. By doing this, the world's Jews are tarred with
Israel's bloody brush [and in danger of increasing anti-Semitism]. Furthermore, how can Israel claim to be Jewish when it violates the Torah and not only desecrated the Jewish holiday of Chanukah, but also the Sabbath, when it lanched it's air strikes on Saturday 27th December?
[While there is a shameful silence from our so called Jewish 'leaders', many Jewish groups have been protesting against the massacre of over 500 Palestinians and the on going siege of Gaza, which is reminiscent of the Warsaw ghetto: Jews for Justice for Palestinians, the Jewish Socialists' Group, the International Jewish anti-Zionist Network and my own group, Jews for Boycotting Israeli Goods.]
[Bombarding] Attacking Gaza will not root out Hamas [and the loss of civilian life cannot be avoided in such a densely populated region]. Israel has no more right to [collectively] punish Palestinians with [state] terrorism for voting for Hamas than Hamas has the right to punish Israeli citizens for voting for their [racist, right-wing] government.
Similarly, the Palestinians have the same right to defend themselvesas Israel – not that Israel's operation is one of defence, but offence. This is no war but the ruthless oppression of refugees by one of the world's most powerful, US-backed countries.
[Deborah Fink, Jews for Boycotting Israeli Goods]
Saturday in Amsterdam!
10,000 demonstrators fill the centre of Amsterdam on Saturday, Jan 3rd. The police says there were 1500… so it is good to know that the police is the same everywhere:
Boycott: A list of brands to avoid!
On the next link you can see a partial list of brands to avoid; when ata shop spotting one of those, don't just avoid buying it, but tell the shop staff why you are doing this!
Ron Prossor chickens out!
Late last night, a large number of us recieved the email below, announcing a planned talk by the Israeli ambassador to the Limud Conference at Warwick.
We've learnt that Ron Prosor, the Israeli Ambassador to the UK, will be speaking on Warwick Campus tomorrow Wednesday 31st of October at midday – 12NOON, as part of the Limmud conference. We are congregating by the Temporary Students Union which is a huge white building next to Car Park Seven. There will be signs to Car Park Seven all over campus.
Clearly this is very short notice – it's been kept under wraps as far as we can tell. We are organising a last minute Emergency Protest at the university and could really use your support!! The times may change as the news has now been leaked, but if most people could get there about 10 or 11, it would be really positive.
If you can make it along to protest, then please do, it's really important to have a presence, given the current situation. Please
contact other members and pass along to friends. There's a map here:
http://www2.warwick.ac.uk/about/visiting/maps/campusmap/campus-map-oct-08.jpg
<http://www2.warwick.ac.uk/about/visiting/maps/campusmap/campus-map-oct-08.jpg>
The conference is apparently in the Temporary Event Structure (TES) or SU. This isn't shown on the map but it's in the field in front of Jack Martin Halls (#27 on the map). It's huge, you can't miss it. That is where we'r congregating, as close as possible.
Emails have started flying, a counter demonstration was quickly organised, and by lunchtime today, it was announced that Mr. Prossor has changed his plans, and no longer plans to speak at the conference!
Thanks to all who organised so quickly to face the voice of the murderers!
They shall not be heard!
The fiasco set in motion by Jiri Potuznik
Spokesperson of the Czech Republic President, Mr. Jiri Potuznik resigns after he calls Israel's action 'defensive'
See Haim Bresheeth's letter demanding his resignation, and his answer that he has indeed resigned! the-spokesperson-of-the-eu-current-president
The only official standpoint of the Czech EU Presidency concerning the actions of the Israeli ground forces in the Gaza Strip.
I would like to apologise for the misunderstanding which occurred on 3 January 2009 about the reaction of the Czech Presidency to the actions of the Israeli ground forces in the Gaza Strip according to which the operations were seen as an act of self-defence. The only official standpoint of the Czech Presidency is the following:
"It is not surprising that the Israeli forces have launched land operations in the Gaza Strip. There were indications that Israel had been considering this step. But even the undisputable right of the state to defend itself does not allow actions which largely affect civilians. We call for the facilitation of humanitarian aid to the inhabitants of the Gaza Strip, and in accordance with the position agreed by the EU Foreign Ministers in Paris on the 30th December 2008 we call for the establishment of a ceasefire."
Jiří F. Potužník
He seems to have changed his mind about resigning…
EU President Czech Republic: Israeli ground incursion defensive, not offensive action: Ynet
Europe backs IDF incursion
EU President Czech Republic: Israeli ground incursion defensive, not offensive action. European Union president, the Czech Republic, said on Saturday an Israeli ground incursion in Gaza was "defensive, not offensive" action.
"At the moment, from the perspective of the last days, we understand this step as a defensive, not offensive, action," Czech EU presidency spokesman Jiri Potuznik said.
Czech Foreign Minister Karel Schwarzenberg is leading an EU delegation to the region on Sunday, and Potuznik said the presidency will wait to see the results of that visit.
However, France condemned Israel's move to send ground forces into Gaza.
"France condemns the Israeli ground offensive against Gaza as it condemns the continuation of rocket firing," the Foreign Ministry said in a statement.
"This dangerous military escalation complicates efforts by the international community and in particular the European Union and France, the members of the Quartet and the states in the region to end the fighting, bring immediate aid to civilians and reach a permanent ceasefire," the statement said.
'Luxury of telling the truth'
The Czech Republic already defended Israel's strikes against Hamas last week. At the time, Foreign Minister Schwarzenberg said Israel had the right to defend itself.