December 18, 2012
EDITOR: The racist party is in full swing
As the election gets nearer, more more racism is exposed in the campaign, and in the daily life which pass for normality in Israel. The racism freely entertained against the black migrants, is but the outer appearance of the racism against Palestinians; the herrenvolk just cannot stand the other, and just seeing him/her seems to unleash the full force of the xenophobia always lurking under the shiny Israeli surface. In this, like vis Palestine, there seems to be no difference between 'right' and 'left'. Zionism is united against the other, along the Serbian model, or even more worrying ones, which, if mentioned, will raise the bile of left-wing Zionists…
It is totally clear now that all the Zionist parties, whatever bizarre name they may be traveling under, are united around the core ideology of Zionism: continuing and intensifying the occupation, Apartheid Wall, settlements and the myriad inhuman illegalities concerned; Continued attacks on Gaza and Lebanon; An attack on Iran; Continued support for untrammeled capitalism of the worst kind, and the deep inequalities involved; denial of Palestinian return; avoidance of a just peace in Palestine by all means, and few other inanities.
Apart from this, they are supposedly all very different. It is a total nonsense – the differences are all window-dressing, mascara, simply a mask – they agree on all the issues which count. For Jews who are supporters of Palestinian freedom and just peace, there is only one party, BALAD, which they can vote for – an anti-Zionist party. How many of them will choose this option? Maybe all of the 500 extant activists… This affords us the 'new' face of Israel: The only Jewish Democracy for Jews, the only Apartheid state by Jews, the vilest Jewish capitalist state, and the only Jewish democracy involved in daily war-crimes. Go for it!
If a campaign ad inciting against Arab citizens of Israel is deemed illegitimate, then why not the party responsible for it, or any of the myriad Knesset members who have also engaged in similar forms of incitement as well, whether against Africans, Palestinians, the LGBT community or Israeli leftists?
Israel's Central Election Committee disqualified an ad campaign last week by a new party called Otzma Leyisrael (Strength to Israel), citing that it singles out and incites against the Arab sector in Israel and is therefore racist. The campaign ads, posted on buses and billboards across Israel, included the word "loyalty" in Arabic, with a Hebrew caption underneath that reads: "Because without duties there are no rights."
The decision by committee chairman Judge Elyakim Rubinstein was made after a group of civil rights activists, including Meretz MK Mossi Raz, filed a complaint with the committee. One of the petitioners, Ela Greenberg, told me, "none of us did this as an organization or with organizational backing. We are just private citizens and this was for me an exercise in realizing that we do have some power and influence and we need to use it."
The ad is not surprising when you consider the people behind it. This new party is comprised of violent, hyper-nationalist, xenophobic, Jewish supremacist settlers. Its members are the ones behind the periodic anti-African rallies in south Tel Aviv, theanti-Arab rallies in Umm al Fahm and are responsible for countless incidents ofincitement against Palestinians, asylum seekers and Israeli leftists. If anyone is interested in their latest hate speech, here is a video of an anti-African "Hannukah rally" they held last week in Levinsky Park:
Party chairman, Ayreh Eldad, who lives in the settlement Kfar Adumim (close to theE-1 area), made his policy on asylum seekers clear last summer when he said, "Anyone that penetrates Israel's border should be shot, a Swedish tourist, Sudanese from Eritrea, Eritreans from Sudan, Asians from Sinai. Whoever touches Israel's border – shot."
The party's number two, Michael Ben-Ari, is a former member of Meir Kahane's outlawed Kach party (banned in 1988 for incitement to racism) and has become well-known for acts such as defiling a New Testament all MKs were given a gift, as well as calling on the IDF to shoot border infiltrators in the head.
The number three in the party is Baruch Marzel, an American-born settler from Hebron, who I have seen assault Israeli left-wing activists with my own eyes (never been tried) and who is an equal-opportunity bigot, having expressed contempt not only for Arabs, Africans and Israeli leftists, but for the LGBT community as well.  The party list also includes Aryeh King, one of the primary operatives behind the Judaization of East Jerusalem, who runs the Israel Land Fund.
Once you understand who these men are (to the best of my knowledge there is no woman on their ticket), what they have done in the past and what they are capable of, the banned ad campaign targeting Arabs looks like a relatively moderate speck in a much more fundamental and ominous problem. The Association for Civil Rights in Israel (ACRI) issued a statement following the banning of the campaign arguing that "isolated disqualification" is not the solution because "racist speech that severely harms minorities has been legitimized in the current mainstream political discourse."
Indeed, what could be more evident proof of the institutionalization and normalization of bigotry and fascism in Israel the presence of such a party, some of whose members already have an office in Israel's Knesset? And It doesn't stop with this party. MKs from Likud, Kadima and Shas have all gone on record making racist and incendiary statements against either Africans or Israeli leftists, or both.
And let's not forget about (former) Foreign Minister Avigdor Lieberman and his party, Yisrael Beiteinu. Otzma LeYisrael was not the first to propose conditioning the rights of Arab citizens of Israels on the  notion of "loyalty" to the Jewish state. After the campaign was banned last week, MKs Aryeh Eldad and Michael Ben Arinoted  that it could not possibly be racist, as Yisrael Beiteinu's campaign slogan in the previous election, crafted by Lieberman himself, had pretty much the same message: "No loyalty, no citizenship." Israel's Knesset even approved the "citizenship law" in March 2011, proposed by Yisrael Beiteinu, which gives the Supreme Court the power to revoke citizenship from citizens convicted of treason, espionage and terrorism. At the time, even Israel's Shabak (General Security Service) warned there was no need for the law, and that its purpose appeared to be the delegitimization of Arab citizens.
So the question remains: If this ad campaign is deemed illegitimate, then why not the Otzma LeYisrael party as well (which is essentially the reincarnation of the outlawed Kach party)? Why not Yisrael Beiteinu's platform and the bill they pushed through Knesset? And why not all the MKs from various parties who have engaged in incitement or slander?
M.'s family fled the fighting in Syria, only to end up in the Gaza Strip one month before Israel launched Operation Pillar of Defense. 'Man can never escape his destiny,' says M.'s wife.
A Palestinian girl stands next to a relative's house after it was destroyed in what witnesses said was an Israeli air strike in Beit Lahiya, in the northern Gaza Strip, Nov. 20, 2012. Photo by Reuters
When they fled the overwhelming violence in Syria, the family didn't know that they were putting themselves straight into another bitter, life-threatening offensive.
M., who preferred to be identified by his initial and refused to be photographed for security reasons, arrived at the Hamas-run enclave of the Gaza  Strip in June 2012, to visit his sister, when the "uprising" in Syria ratcheted up to a higher volume of aggression. By October, he found himself forced to move his wife and two children from Syria to the Gaza Strip.
"In the beginning, my children used to phone from Syria and beg me to come back home, but later they asked me to bring them here," he noted. M. never dreamed he would be bringing his family to another dangerous zone. He was thinking only of how he could reunite with them.
He noted that the only difference between the two "wars" is that the fighting between Gaza and Israel in November was understandable. "At least here, I know who my enemy is, unlike in Syria. I left my home in Syria and my neighbors told me that it was broken into and robbed. I don't know who did it but this isn't a war – it's chaos."
The 4-year-old, A., said he was so happy when he first came here. "Gaza is so beautiful, but then it became so much like Syria," he said while watching TV. A. now goes to a local kindergarten where he's meeting new friends and interacting with them. "I love my kindergarten so much, it's so beautiful and has so many toys," he said, adding "but I couldn't go there for a while because of the bombings." He was referring to the Israel Defense Forces' bombing of Gaza during Operation Pillar of Defense.
When A. went with his dad and his uncle to take a look around Gaza after the Israeli offensive was over, he wasn't surprised by what he saw. Basically, it was the same scenes he used to see in Syria. "I saw a damaged mosque, I saw so many destroyed houses and ruins everywhere," A. said.
M.'s daughter, S., was more afraid than his son. She said that when she came to Gaza she was expecting to sleep the whole night through, without any bombing outside, but she was very shocked with what she found.
"It's scarier than Syria. In Syria there were only tanks that weren't close to my home, but in Gaza the warplanes were circling the skies over my head 24/7," S. said.
During the offensive, while everyone in Gaza was following the local news of the Israeli-Palestinian fighting, the Syrian mother was waiting for them to go sleep so she could watch a bit of the Syrian news broadcasts. "I'm so worried about my family in Syria," she said. "I know Gaza is not such a safe place, but I never expected anything like this, at least now."
Meanwhile, her husband was following the news on both Syria and Gaza, and trying to make a connection between them, especially when the cease-fire was reached on November 22. "I followed the Syrian media to find them blaming the Palestinian resistance for not acknowledging the Syrian role in supporting it," he elaborated.
While it was really dangerous in Gaza, he said he doesn't regret coming here. "At least I'm in my country now, and if I die, I'll die for something. But in Syria, I'm a guest and I don't want to die there," he said.
M. expressed his satisfaction with the way the war ended; he believed that the Palestinian resistance managed to surprise Israel. "Netanyahu wanted to promote himself before [Israel's January] elections, but  he ended up destroying himself by himself," said M., suggesting that the offensive had failed to stop Palestinian rocket fire.
The violence in Syria began in March 2011 with demonstrations against President Bashar Assad's regime, but it soon turned into a fierce civil war between the regime and its opponents. In Gaza, the IDF operation started on November 14 when Israel assassinated senior Hamas leader Ahmed Jabari after an escalation in rocket fire emerging from the Strip, and an attack on an Israeli military jeep on the Israel-Gaza border.
While M.'s wife has felt relatively safe since the cease-fire was reached, she wishes she could go back to her homeland in Syria. "Now I know that man can never escape his destiny."
This is Israeli justice! An innocent man, on hunger strike, is not safe even in the courtroom, where he is beaten up in front of the soldiers and policemen, all with perfect immunity. A Nazi courtroom would be safer for Jews during 1933-1939. After that, they hardly bothered with courts…
And another disturbing clip from the many now circulating freely on the web – pure hatred and racism rule Israeli public space:
Given the recent action of the government of Israel and in particular the proposed building of 3000 new homes in the E1 corridor we feel we can no longer perform at the red sea jazz festival.
Whilst we recognise that the citizens of a country are different from their government we feel that as the festival is directly funded by the state we cannot accept the offer to play.
We urge other artists to join the campaign of Boycott, Divestment and Sanctions.
We apologise to anyone who bought tickets or anyone who was looking forward to seeing us and we hope to see you again at some point under different circumstances.
PQ X
PLO officials say Assad regime's attack marks 'historic moment' with former ally as 50,000 Palestinians expected from Yarmouk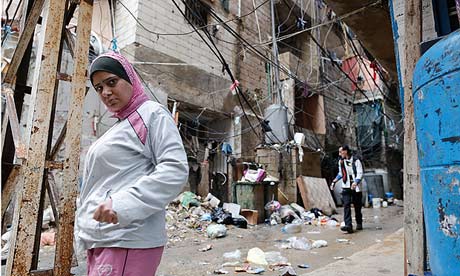 The Sabra-Shatila refugee camp in Beirut, which is bracing for an influx of Syrian-based Palestinians fleeing heavy fighting in Yarmouk camp, Damascus. Photograph: Sam Tarling
Thousands of Palestinians in Syria are fleeing Damascus after an attack on the country's largest refugee camp, according to survivors who have reached Lebanon.
Some of those who have made it to the relative safety of Beirut claim the attack marks a "historical moment" in the Syrian war that has shattered the regime's claim to be a patron of resistance against Israel.
The fallout from the attack on the Yarmouk refugee camp in south-west Damascus on Sunday night is now reaching beyond Syria's borders, with Lebanon and Jordan braced for a fresh refugee crisis.
About 1,000 Palestinians had reached Lebanon less than 48 hours after a Syrian jet bombed a mosque and a school inside Yarmouk camp, the first time the large, sprawling section of the capital had been targeted from the air and only the second time it had been struck since the civil war began. The air strike is believed to have killed about 25 people and wounded several dozen more.
The new arrivals say they fear that authority in the Syrian capital is starting to crumble. They are now openly hostile towards a regime that had long portrayed itself as the protector of the 500,000 Palestinians living in Syria, most of whom had called Yarmouk home until now.
"No Palestinian will trust them anymore after what they did on Sunday," said Abu Khalil, a father of three who has taken refuge in the infamous Beirut refugee camp Sabra-Shatila. "All of us accept that blood has been drawn between us and the regime. There is a debt to settle. It will never be like it was."
Abu Khalil and his extended family of 15, now refugees for a second time in a lifetime, say the attack has repulsed Palestinians who had enjoyed the patronage of the Assad regime for more than 40 years but had increasingly been expected to openly align with them.
Abu Khalil offered an account of what took place on Sunday in the hours before the attack and in the frenetic aftermath, which has led to unprecedented criticism of the regime from most Palestinian factions.
"Since the summer, the two intelligence bases in the camp, air force intelligence and political security, were opened as recruitment centres for anyone who wanted to join Ahmed Jibril," he said. "Anyone who did was given a gun."
Ahmed Jibril runs the Popular Front for the Liberation of Palestine–General Command, a faction that has remained loyal to the Assad regime and is hostile to the main Palestinian organisational body, the PLO.
"There had been no fighting inside the camp at all until Sunday," he said. "There were clashes on the outskirts, but the Free Syria Army had not entered the camp at all. They only came in after the air strike."
About 3,000 members of the Free Syria Army and the al-Qaida-aligned Jabhat al-Nusra are now inside the camp, Abu Khalil said. He claimed only 500 residents remain, with most having sought refuge in homes, schools and mosques elsewhere in Damascus.
Jibril had about 1,000 armed men but only 150 of them were fighting with him on Sunday," he said. "They fled after a few hours.
"Some of the rebels who came in after the attack spoke with strange dialects. Others had beards, like jihadists. They were all telling us not to worry. It was the first time we had seen any opposition member in Yarmouk."
Abu Khalil's mother, who called herself Um Hassan, said warnings broadcast from mosques in Yarmouk early on Sunday had given residents two hours to leave.
Many had done just that, she said. However, others had sought refuge in a mosque and remained behind. Syrians who had fled from battlezones elsewhere in Syria were staying in a nearby school. They also chose to stay. Both groups were hit by bombs dropped from jets.
"We left at 7am on Monday and got to Sabra-Shatila at 3.30am [on Tuesday]," said Abu Khalil. "It was the biggest humiliation I have ever felt. We left with only the clothes on our backs.
"Three weeks ago we watched the ugly scenes as the Israelis bombed Gaza. We know what to expect with them. But I can't describe the feeling of Muslims attacking Muslims. It was a historical moment."
Palestinian leaders in Lebanon say they are bracing for the arrival of 50,000 refugees from Yarmouk, an influx that would seriously strain resources inside the country's 12 established camps. Such numbers could also potentially upset the delicate sectarian balance in the still-brittle country, where sect numbers are bitterly contested and often used as political tools.
Unlike in Lebanon, Syria's Palestinians had largely enjoyed equal rights as citizens, with access to homes, healthcare and other trappings of state.
Their treatment has often been showcased by regime officials as a sign of Syria's support for a people who have remained at odds with their sworn enemy, Israel. The regime's far-reaching support for Hezbollah has been the second dimension of its resistance credentials.
The Yarmouk attack is also being seen as a turning point by senior Palestinian officials in Lebanon. Qassem Hassan, the general secretary of the PLO in Sabra-Shatila, said: "We sense a very bad smell to this. Why this is happening, we can't understand. The PLO had taken a position not to support the regime or the other side.
"We did not interfere in the affairs of Syria and they shouldn't have interfered in ours. A volcano has erupted here. Is this part of a plan to reorganise the Middle East? We don't know. But it is a very big event."