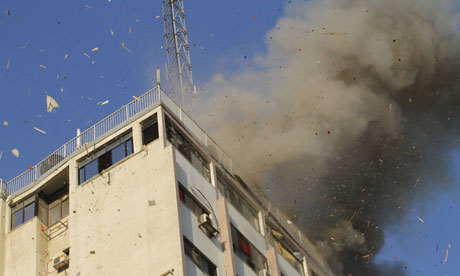 Smoke rises after an Israeli air strike on an office of Hamas television channel al-Aqsa in Gaza City Photograph: Mohammed Abed/AFP/Getty Images
Israeli military planes struck two media headquarters in Gaza City in the early hours of Sunday morning, injuring six people including a cameraman, who lost a leg.
A number of media organisations are based in the al-Shawa building, including al-Quds television, which is associated with Islamic Jihad. Khader al-Zahhar, a cameraman with al-Quds TV, had his leg amputated as a result of injuries sustained in the attack.
A second air strike struck another media complex in the city, the al-Shuruq building. It houses Sky News, the al-Arabiya news network, Dubai TV and an office of al-Aqsa TV, which is affiliated with Hamas.
Sky News reporter Sam Kiley was sleeping in the offices when the missile struck shortly before 7am. "The missile hit the floor above us. There was a big flash of light and the sound of breaking glass."
In a statement, the Israeli Defence Forces said: "A communications antenna used by Hamas to carry out terror activity against the state ofIsrael, was … targeted."
"The second site was targeted at approximately 6.50am and was also part of Hamas's operational communications that was deliberately located on the roof of the building, in which several international media bureaux reside.
"The IDF calls on international journalists and correspondents who operate in the Gaza Strip carrying out their duties, to stay clear of Hamas's bases and facilities – which serve them in their activity against the citizens of Israel."
The Palestinian death toll since the war began last Wednesday topped 50 after a night of sustained bombing. Seven civilians including five NEW children were killed in overnight bombing, a Gaza health official said. Two of the children were killed and 12 people injured when two houses were struck in northern Gaza.
Shells fired from Israeli gunboats positioned off the coast pummelled Gaza for an hour in the middle of the night, causing massive explosions.
There appeared to be a lull in rocket fire out of Gaza overnight, but air raid sirens sounded in Tel Aviv and Ashdod on Sunday morning. Israel's Channel 2 reported that rocket fire aimed at Tel Aviv was intercepted by an Iron Dome defence battery.
Israel opened the Kerem Shalom crossing to allow medical and humanitarian supplies into Gaza.
Three children killed and media centres hit as Israel keeps up bombardment for fifth straight day.
Last Modified: 18 Nov 2012
Israel is continuing its assault on the Gaza Strip for a fifth straight day, bombarding the Palestinian enclave from both the air and sea.
Medical sources said three children were killed on Sunday. One of them was an 18-month-old killed in a air raid east of Bureij refugee camp in central Gaza.
Meanwhile, fighters in Gaza fired rockets into Israel. Two of them, aimed at the commercial hub of Tel Aviv, were shot down by Israel's anti-missile system, police said.
An air raid before dawn in Gaza City targeted a building housing the offices of local Arab media, wounding several journalists from al-Quds television, a station Israel sees as a mouthpiece of the Hamas movement which rules the Gaza Strip.
"At least six journalists were wounded, with minor and moderate injuries, when Israeli warplanes hit the al-Quds TV office in the Showa and Housari building in the Rimal neighbourhood of Gaza City," health ministry spokesman Ashraf al-Qudra told the AFP news agency, adding that one journalist lost his leg.
Witnesses reported extensive damage to the building, and said journalists had evacuated after an initial strike, which was followed by at least two more on the site.
A second media centre was targeted later on Sunday morning. Sky News, al-Arabiya, and the official Hamas-run channel al-Aqsa TV have offices in the building. Qudra said two journalists were injured in the attack.
The Israeli military said it had targeted "two Hamas operational communication sites" and had only targeted communication devices located on the roof to "minimise the damage to non-involved persons".
Huge plumes of smoke were billowing in the sky after a security building in Gaza City was hit.
Two other attacks on houses in the Jebalya refugee camp killed one child and wounded 12 other people, medical officials said.
Rockets fired
Gaza has been under attack since Wednesday, when Israel launched a military offensive with the declared goal of deterring Gaza fighters from launching rockets into its territory.
Fifty-one Palestinians, about half of them civilians, including 14 children, have been killed in Israel's raids, Palestinian officials said. More than 500 rockets fired from Gaza have hit Israel, killing three people and injuring dozens.
Al Jazeera's Nadim Baba, reporting from Gaza City, said some people who live near the northern and eastern borders with Israel had been leaving their homes to seek shelter with relatives elsewhere. Meanwhile in Gaza City, streets were relatively quiet.
Al Jazeera's correspondents report from
Gaza City and Sderot, Israel
"People still do think that the Israeli military might actually launch a ground incursion. They are of course also worried that they might be near targets of the Israeli military, and they might also be near to a place from where rockets are being launched."
Our correspondent said he had witnessed a rocket being launched from a waste ground in the city. "Then I saw civilians running away from that area," he said.
Rocket fire from Gaza into Israel subsided during the night but resumed in the morning with at least 50 rockets fired, the Israeli army said.
At least 17 of them were intercepted by the so-called Iron Dome, Israel's a missile-defence system meant to shoot down rockets and artillery shells fired at populated areas. Two people were lightly injured by a rocket hitting a house in the coastal city of Ashkelon, the Magen David Adom emergency services said.
Israel said it would keep schools in its south shut on Sunday as a precaution to avoid casualties from rocket strikes.
Hamas defiant
Prime Minister Binyamin Netanyahu said Israel was ready to "significantly expand" its operation against fighters in Gaza.
The military said Israeli aircraft had targeted dozens of underground rocket launchers overnight, "causing severe damage to the rocket launching capabilities of Hamas and other terror organisations".
It also confirmed that its navy has shelled Gaza, hitting targets on the northern Gaza shore line.
Hamas remained defiant, with its military spokesman Abu Ubaida insisting that despite Israel's blows the movement "is still strong enough to destroy the enemy".
"This round of confrontation will not be the last against the Zionist enemy and it is only the beginning," he told a televised news conference.
Urgent communication from Gaza – Names of the Palestinians murdered by Israel until now!
Because we are NOT just numbers, keep following this post of the names and ages of murdered people who fell victim during the past days of Israeli attacks on Gaza since Wednesday. The number rises to 57 and still rising :( I hope that this battle will cost us no more souls. However, nothing will depress us, no matter how much Israel escalates its inhumanity and crimes. We'll remain ready to pay any price for attaining of freedom and dignity. RIP!
1- Ahmad Al-Ja'bary, 52 years old.
2-Mohammed Al-hams, 28 years old.
3- Rinan Arafat, 7 years old.
4- Omar Al-Mashharawi, 11 moonths old.
5-Essam Abu-Alma'za, 20 years old.
6-Mohammed Al-qaseer, 20 years old.
7- Heba Al-Mashharawi, six-month pregnant, 19 years old.
8- Mahmoud Abu Sawawin, 65 years old.
9- Habis Hassan Mismih, 29 years old.
10- Wael Haidar Al-Ghalban, 31 years old.
11- Hehsam Mohammed Al-Ghalban, 31 years old.
12- Rani Hammad, 29 years old.
13- Khaled Abi Nasser, 27 year old.
14- Marwan Abu Al-Qumsan, 52 years old.
15- Walid Al-Abalda, 2 years old.
16- Hanin Tafesh, 10 months old.
17- Oday Jammal Nasser, 16 years old.
18- Fares Al-Basyouni, 11 years old.
19- Mohammed Sa'd Allah, 4 years old.
20- Ayman Abu Warda, 22 years old.
21- Tahrir Suliman, 20 years old.
22- Ismael Qandil, 24 years old.
23- younis Kamal Tafesh, 55 years old.
24- Mohammed Talal Suliman, 28 years old.
25- Amjad Mohammed Abu-Jalal, 32 years old.
26- Ziyad Farhan Abu-Jalal, 23 years old.
27- Ayman Mohammed Abu Jalal, 44 years old.
28- Hassan Salem Al-Heemla', 27 years old.
29- Khaled Khalil Al-Shaer, 24 years old.
30- Ayman Rafeeq sleem, 26 years old.
31- Ahmad Abu Musamih, 32 years old.
At 8:20 am, as a result to an Israeli inhumane attack on Deel Al-Balah, central Gaza, three people were killed. The list of murdered victims goes longer>>>
32- Osama Abdejjawad
33- Ashraf Darwish
34- Ali Al-Mana'ma
At 8:45 am_ 9:00 am, warplanes attacked several places including Rafah, Khan-Younis, and Tal Al-Sultan, southern Gaza, leaving three killed>>
35`- Mukhlis Edwan
36- Mohammed Al-Loulhy, 24 years old.
37- Ahmad Al-Atrush
In a series of attacks on several places on central Gaza at noon, two more people fell victim:
38- Abderrahman Al-Masri
39- Awad Al-Nahhal
40- Ali Hassan Iseed, 25 years old, killed in an attack on his motorbike in Deer Al-Balah, central Gaza, at 8:10 pm, Novebmer 17.
IOF attack another motorbike in Deer Al-Balah at 8:20 pm, leaving two more killed:
41- Mohammed Sabry Al'weedat, 25 years old.
42- Osama Yousif Al-Qadi, 26 years old.
In an attack on central Gaza, to the west of Al-Masdar area, at 9:10 pm, two more people people killed:
43- Ahmad Ben Saeed, 42 years old.
44- Hani Bre'm, 31 years old.
At 9:40 pm, Israel attacked Qdeih family's house in west Khan-Younis, Southern Gaza and a woman got killed.
45- Samaher Qdeih, 28 years old.
46- Tamer Al-Hamry, 26 years old, died after being seriously injured in an attack on Deer Al-Balah.
On November 18, the fifth day of the Israeli ongoing aggression on Gaza:
Israeli warplanes shelled the house of Abu-Alfoul family in northern Gaza, killing two children and injuring at 13 at least, mostly children and women.
47- Gumana Salamah Abu Sufyan, 1 year old.
48- Tamer Salamah Abu Sufyan, 3 years old.
An Israeli warplanes fired missiles at a house that belongs to the family of Abu Nuqira in Rafah killing one person:
49- Muhamed Abu Nuqira
An Israeli war plane fired a missile at a house in an agricultural land east of Bureij camp, in the Central Gaza Strip, killing one child and injuring 2 other children:
50- Eyad Abu Khusa, 18 months old.
Two people were killed, one of them a child, when an Israeli missile hit a beachfront refugee camp in Gaza City:
51- Tasneem Zuheir Al-Nahhal, 13 years old.
52- Ahmad Essam Al-Nahhal, 25 years old.
Medics also reported finding the body of woman under the rubble of a house in eastern Gaza City who had been killed in a strike earlier in the morning.
53- Nawal Abdelaal, 52 years old.
At 3:10 pm, November 18, Israel rocked a house belongs to Al-Dalou family in Sheikh-Redwan area, west Gaza, killing 3 people, three sisters, and a man.
54- Sulifa Al-Dalou, 50 years old.
55- Samah Al-Dalou, 25 years old.
56- Tahani Al-Dalou, 46 years old.
57- Abdallah Al-Mzannar
Keep following this post. I'm going to keep updating it on everything that is happening as much as I can and as long as I'm breathing!
EDITOR: listen to an ace analysis of Israel's aggression on the The Real News by Phyllis Bennis, who is a Fellow and the Director of the New Internationalism Project at the Institute for Policy Studies in Washington DC. She is the author of Before and After: US Foreign Policy and the September 11 Crisis , Ending the US War in Afghanistan: A Primer and Understanding the US-Iran Crisis: A Primer: