We westerners set the precedent when it comes to "collateral damage", now the Israelis are reeling out the same tired excuses
Enough is enough. Now we have even "National Infrastructure" Minister Uzi Landau – one of my favourite dogsbodies in the Israeli government – talking about "collateral damage" and the justification for bombing Hamas's broadcasting station. It could be used for transmitting military instructions, he said.
But wasn't that exactly what our own beloved Lord Blair of Kut al-Amara – now, I suppose, Lord Blair of the Holy Land – said after Nato bombed the Serb television station in Belgrade, when Nato, too, was blathering on about "collateral damage"?
We Westerners set the precedents in the former Yugoslavia, Afghanistan, Iraq – trains, bridges, TV stations, wedding parties, blocks of civilian apartments, you name it – and now the Israelis can trot along behind and produce, whenever necessary, the same tired list of excuses we invented for Nato.
It's odd, the way they all get away with it. Lord Blair, whose 92 Business Class trips to the Holy Land have produced a peace beyond all peace, is now talking about how it's in everybody's interest to have a truce – is his face getting a bit skeletal, or is that my imagination? – and a truce, I suppose, we shall have, well over 100 Palestinian and three Israeli dead too late. But is it all worth it? Was the murder by Israel of Hamas's military leader Ahmed al-Jabari in fact not staged to provide an excuse to bomb all those new missiles that Hamas has acquired?
That wise old Israeli owl Uri Avneri – he is 89 years old – thinks this is just the trap that Hamas fell into by launching its preposterous "Gates of Hell" rocket attacks in revenge for Jabari's death. The whole Operation "Pillar of Defence" was about destroying Hamas's weapons – not about the largely ineffective missiles themselves.
Isn't this why Israel gave its operation the name it did? For, despite our constant repetition of "Operation Pillar of Defence", Israeli friends tell me that the correct Hebrew translation of this sick war is Operation Pillar of Cloud. Which makes a lot more sense. For this comes from the Book of Exodus (13:21) – "And the Lord went before them by day in a pillar of cloud, to lead them the way."
I wonder, indeed, if the ridiculous William Hague realised he was doing God's work when he gave his support to this bloodletting?
But this leads me to another little matter. One of the new Israeli lines on the war runs like this. Israel kills "terrorists" by the score along with a handful of "collateral damage" innocents – and the world rages against Israel. Yet isn't the Syrian regime killing Syrian innocents by the thousand every month? Where are the mass protests, the venting of wrath at Bashar al-Assad? What hypocrisy! But of course, this is in itself a hypocrisy. We know the old "Hama rules" of Syria; no one asks us to support them. And comparing Israel's brutality to that of the Assad regime is playing the old Lord Blair game: we weren't perfect in Iraq – but we weren't as bad as Saddam.
No. Israel claims to hold the same values as the supposedly moral West. It says that it is fighting "terrorism" in our name as well as its own. It says it is fighting like us. It is playing by our Western rules. We are all Israelis now; that is what we are meant to say. Hamas is our enemy, as well as Israel's. And so – for this is the effect – we too must be contaminated by the war crimes of Israel's pilots. That, I believe, is why we protest against Israel. Operation Pillar of Cloud must not be committed in our name.
Hamas says a truce deal will go into effect on Tuesday, but Israeli officials have yet to confirm.
Last Modified: 20 Nov 2012 19:22
A Hamas official has said that An Egyptian-negotiated ceasefire in the week-long Gaza conflict will go into effect on Tuesday."An agreement for calm has been reached. It will be declared at 9 o'clock (1900 GMT) and go into effect at midnight (2200 GMT)," Hamas official Ayman Taha told Reuters news agency from Cairo.There was no immediate Israeli comment on the Hamas statement or on the prospect of a ceasefire, although an Israeli spokesperson has said the deal is not quite finalised.
US Secretary of State Hillary Clinton is en route to the region and is expected to meet with Israeli Prime Minister Binyamin Netanyahu on Wednesday.
Al Jazeera's Peter Greste, reporting from Cairo, said that it is best to approach the news with caution.
"It's one thing for this agreement to be signed, it's quite another for it to be implemented," said Greste.
"But here's what we do understand is to be contained in this agreement: Firstly, that Israel has agreed to stop targeted assassinations of Hamas leaders. Secondly, that Hamas has agreed to stop firing rockets over the border into Israel," said Greste.
"Thridly, that the border restrictions into Gaza will be eased, but we don't know quite what that means – we don't know what restrictions will be lifted."
He added that Egypt would be the guarantor of the agreement.
The terms of the truce, first hinted at by Egyptian President Mohamed Morsi, have not yet been disclosed. Egypt has been trying to negotiate a ceasefire with the help of Qatar and Turkey.
Al Jazeera's Nisreen El-Shamayleh, reporting from Jerusalem, said that Israeli media outlets have been quoting unnamed officials who say that Clinton will announce a ceasefire agreement negotiated by the US, Egyptian and the European Union.
"This kind of goes along with what we've heard coming out of Cairo, with the newly-elected president, Mohamed Morsi, hinting to journalists that a ceasefire is imminent," said El-Shamayleh.
US President Barack Obama called on Morsi for the third time in 24 hours on Tuesday to "commended" his efforts to secure a ceasefire in Gaza, the White House said.
"He commended President Morsi's efforts to pursue a de-escalation" in the Gaza Strip, said Ben Rhodes deputy national security advisor.
Meanwhile, UN Secretary-General Ban Ki-moon has arrived in Israel to hold talks with Israeli Prime Minister Binyamin Netanyahu. He will also meet Palestinian President Mahmoud Abbas to discuss the crisis.
'Regrettably, I'm back again in the region only nine months since my last visit, because of violence in Israel and Gaza…the world is extremely concerned at the rising loss of human lives," said Ban.
Earlier on Tuesday, Ban met the Arab League chief, Nabil el-Araby, in Cairo and called for support for Morsi's efforts to mediate a truce in the conflict.
A delegation of nine Arab ministers, led by Mohamed Amr, Egyptian foreign minister, visited Gaza in a further signal of heightened Arab solidarity with the Palestinians.
El-Araby said that a ceasefire is not the the real issue facing Gaza.
"The real problem is not a truce. The real problem that the Arab and Islamic countries and all friendly countries in the world must focus on is ending the occupation," said el-Araby.
The Israeli military has struck more than 1,350 targets in Gaza since attacks began on Wednesday. Since then, 640 rockets have hit Israel while more than 300 others have been intercepted by Israel's anti-missile system.
Over 120 Palestinians have been killed in Gaza, with 920 injured. Three Israeli civilians and one Israeli soliders have been killed in the conflict that has also left dozens of Israelis injured. have been injured.
Israel's media rallies support for war as politicians jump on bandwagon for attack ahead of elections.
Precis
Alongside the military assault on Gaza, the Israeli army has a adopted a new media strategy which has influenced coverage of the war in the Israeli press. Unlike in Operation Cast Lead four years ago, this time Israel decided to allow journalists into the Gaza strip, and has streamlined its process of delivering material from the battlefield to the press conference. The Israeli media has adopted the government's line that only military targets are being hit regardless of the rising Palestinian casualty toll, reported at 115 on Monday night. The Real News' Lia Tarachanky summarizes the coverage of Operation Pillar of Defense in the Israeli press, quotes Editor-in-Chief of Ha'aretz Aluf Benn, and speaks to Michael Omer-Man, the Head of the Newsdesk at Jerusalem Post Online. Omer-Man is also the author of the analysis and news blog Notes from a Conflicted Land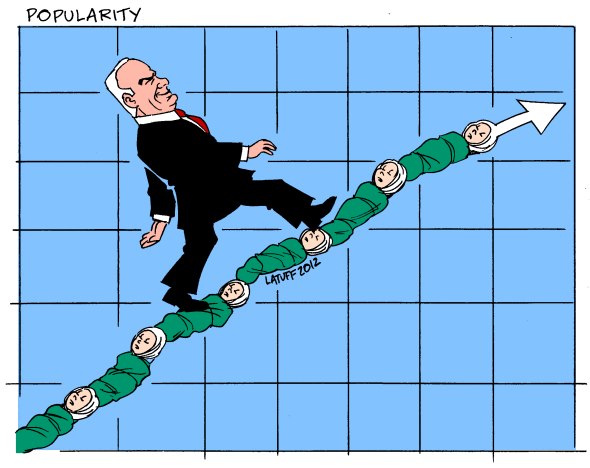 EDITOR: Some hope for an early ceasefire
It seems that even the Israeli leaders are at last realising that a ground offensive will be a deadly mistake. One hopes the international pressure will bring them to a ceasefire today, but there is no telling with such war criminals. As their deluded Jewish population supports the murders with over 90% showing, they can afford to go on killing. Lert us hope it all ends today, but for how long, no one can say.
In the meantime, protest around the globe is spreading like bushfire. Below is one example – the Students at SOAS have occupied in support of Palestine!
SOAS students today occupied their university in solidarity with the people of Gaza. This followed an overwhelming vote of support at a packed union general meeting.
Over 100 Palestinians, including 24 children have been killed thus far over six days of Israeli bombing. The Israeli Interior Ministry has declared its intent to "send Gaza back to the Middle Ages" and continues to threaten a ground invasion.
The unjustifiable comments made by the UK's Foreign Secretary William Hague that Hamas are principally at fault for the current violence, and the British government's deplorable record on defending Palestinian rights demonstrates our government's tacit support for Israeli aggression. In light of this, the SOAS occupation calls on all students in Britainr and the anti-war movement at large to take action in solidarity with the people of Gaza.
The primary demands of the occupation are that the SOAS Director, Paul Webley, condemn William Hague's recent statements, implement an ethical investment policy, cultivate academic  partnerships with Gazan universities and that there be no repercussions for SOAS staff and students involved in the action.
The people of Gaza are not just numbers. They are people with families, aspirations and rights and we occupy to defend their right to live, and live in peace.
EDITOR: On November 15th, when a small left-wing demonstration stood in King George street in Tel Aviv, a large and vocal group of Nazis, followers of the MK Michael Ben-Ari, have called for the total destruction of Gaza. The MK, who is mad beyond description, has asked Netanyahu to remove Gaza from the map, and 'bring' thousands of dead Palestinians. Unfortunately, there is no subtitled version of this toxic video, so only Hebrew speakers can properly 'enjoy' it. Nonetheless, I suggest to you to view it, as I believe it is easy top understand, just by listening to the tone of the mob led by this criminal politician:


The Israeli attack on Gaza
Statement Arab Educational Institute
Bethlehem

Israel's forces of occupation are attacking Gaza, kill civilians, terrorize children, women and elderly people, and destroy the infrastructure. The escalation goes on and rockets continue to be launched from Gaza.
The timing of the Israeli attacks seems to be no coincidence. They come before the Israeli elections. The local, regional and international circumstances are not positive. For more than 64 years the international community has been unable to stop Israeli attacks and has refused to implement the relevant UN resolutions and international laws that support the just cause of the Palestinians, and to reach a just peace.
We call on the UN to issue a resolution for an immediate ceasefire. At the same time, there is no way to get out of this terrible escalation unless, first, sanctions are imposed on Israel as long as international laws and human rights conventions are violated. Secondly, the Palestinians should come back to form a national unity government and take a unified political stand. Thirdly, it is necessary to put more pressure on the old and new Arab regimes to support the Palestinian people in their just national struggle to end the occupation and build a free democratic state with Jerusalem as its capital. The UN should send an international force to pave the way for an Israeli withdrawal from all occupied territories.
Let us all pray, raise our voices and put pressure on our leaders to come back to a real dialogue and end our internal division as a first step towards confronting the present challenges. May God help us all to take serious action in order to stop the ongoing atrocities against our people in Gaza.
We also appeal for immediate local as well as Arab and international humanitarian and financial support needed to support our people's sumud or perseverance, in addition to the restoration of our human and material infrastructure.
Arab Educational Institute
19 November 2012
Bethlehem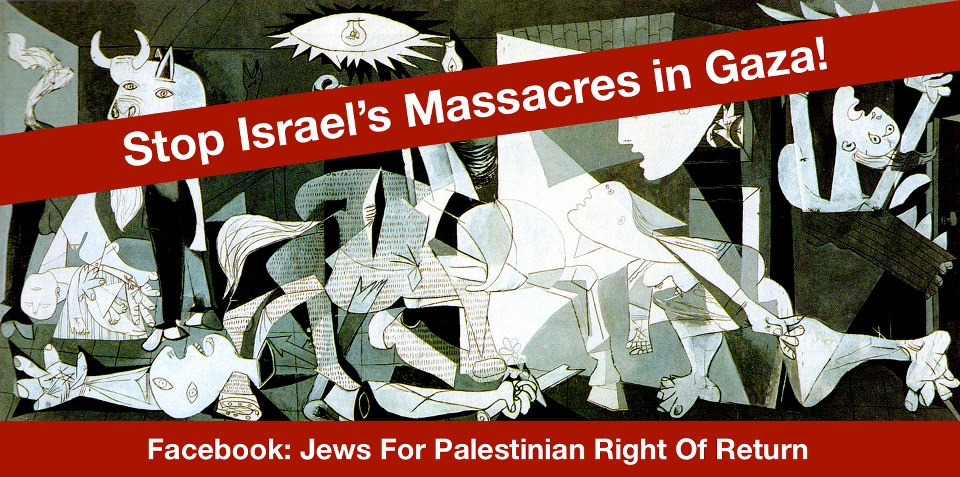 Israel has put plans for a ground operation in Gaza "on hold" to give talks to secure a truce with Hamas militants a chance, officials say.
It is understood Israel has set a Thursday deadline for the Egypt-brokered talks to succeed.
The current conflict began last Wednesday when Israel killed Hamas's military commander, saying it wanted to end rocket attacks on Israel.
More than 110 Palestinians and three Israelis have been killed so far.
Israeli ministers met late into the night to discuss Egyptian truce proposals, as officials are due to restart talks in Cairo.
Israeli troops are massed along the border, raising fears of a ground offensive similar to that of 2008-09.
Jon Donnison
BBC News, Gaza City
In Gaza City this morning, the normally bustling and traffic filled streets are once again quiet. People are staying indoors following the news on TV and trying to keep safe.
On the city's main tree line boulevard known to locals as "the Champs Elysee of Gaza" shops have their shutters down, closed for business. People are complaining of rising fuel and food prices.
Deep large craters can be seen, the product of almost a week of violence.
The constant sound of Israeli drones can be heard above. In Arabic they're known as Zananna, literally "whining child". For Gazans they're an irritation but also a worry. Occasionally Israeli warplanes zoom overhead.
It feels quieter today with Israel's attacks less intense. The relative quiet should continue during a short visit by Arab League foreign ministers today. The push for a ceasefire continues. Everyone in Gaza is asking if and when it will come.
However, Israeli officials say that any possible ground invasion of Gaza has been put on hold while the ceasefire talks continue.
A spokesman told the BBC that Prime Minister Benjamin Netanyahu had telephoned US President Barack Obama.
"Israel wants talks to succeed but we're prepared to go into Gaza," the spokesman said.
US Secretary of State Hillary Clinton is due in Israel for crisis talks.
Mrs Clinton was to underline that "the best way to solve this is through diplomacy, so that you have a peaceful settlement that ends that rocket fire and allows for a broader calm in the region", said Mr Obama's Deputy National Security Adviser Ben Rhodes.
Meanwhile, the UN Security Council is debating a statement calling on both parties to stop attacks and address humanitarian needs in Gaza.
More explosions are being reported in Gaza – after a night during which the Israeli military said it had carried out about 100 strikes mainly on smuggling tunnels and underground rocket-launching facilities. Hamas officials say seven people were killed.
UN Secretary General Ban Ki-moon: "Families and children are dying as a result of senseless violence"
A father and his two sons – thought to be two and four – were killed overnight, Hamas health ministry officials said.
More than 60 rockets have been fired from Gaza toward Israel so far on Tuesday – some managed to get through Israel's Iron Dome interception system, Israeli officials said.
One landed on a parked bus in Beersheba and a house in Ofakim. Later a soldier was "moderately wounded" from shrapnel in Eshkol, southern Israel, the army said.
Regional risk
UN Secretary General Ban Ki-moon met Arab League Chief Nabil al-Arabi in Cairo on Tuesday.
"I'm here to appeal personally for an end to the violence and to offer my ongoing efforts to achieve a ceasefire. I'm also here to offer my heartfelt condolences to many civilians, especially to families of victims who were killed," Mr Ban told a joint news conference.
He is due to travel to Israel later on Tuesday. Mr Ban warned against a ground operation in Gaza.
"Further escalating the situation will put the entire region at risk," he said.
Egypt has been trying to broker a ceasefire with the help of Qatar and Turkey.
Turkish Foreign Minister Ahmet Davutoglu and Arab foreign ministers are expected to visit Gaza on Tuesday.
The content of the Egyptian plan is not known, but both Israel and Hamas have presented conditions.
Israel's demands include no hostile fire of any kind from Gaza and international efforts to prevent Hamas from rearming, while Hamas is demanding an end to the blockade on Gaza and "Israel's assassinations".
The search for a ceasefire is now urgent
The BBC's Kevin Connolly in Jerusalem says the Cairo talks – in which Egyptian intelligence officials are meeting separately delegations from Israel and Hamas – appear to be at a crucial stage.
It is the sequence of events involving the key measures of the plan, such as a cessation of attacks and easing the blockade on Gaza, that may prove a stumbling block, he adds.
Meanwhile, UN Security Council members have been debating a draft statement on Gaza and are awaiting a response from their governments.
On Monday, US President Obama spoke to his Egyptian counterpart Mohammed Mursi and Mr Netanyahu, discussing ways to de-escalate the situation, the White House said.
Khaled Meshaal, political leader of the Islamist movement Hamas which controls Gaza, said that a truce was possible in Gaza – as was further escalation of the conflict.
Hamas seized control of Gaza in 2007, a year after winning a decisive victory in general elections. Israel withdrew from the strip in 2005 but maintains a blockade around it.
Israel, as well as the United States and the European Union, regards Hamas as a terrorist organisation.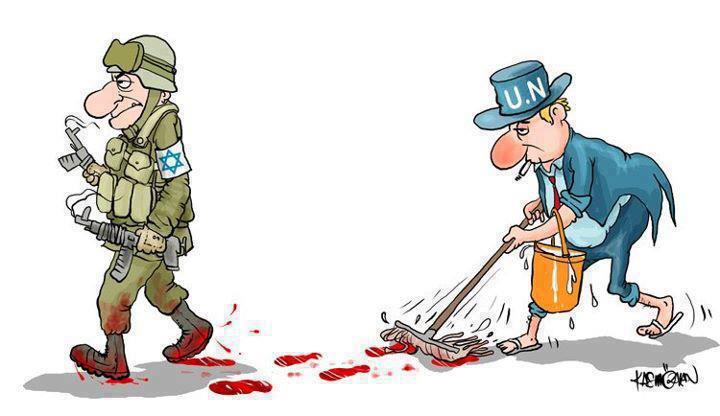 EDITOR: The resistance continues!
Despite the strongest army in the Middle East, despite the advanced technology, despite the 200,000 Israeli soldiers surrounding Gaza, and the thousands of advanced bombs raining on them, Gaza defenders continue to send their rockets to Israel. Of course, the rockets are primitive and do not pose a real danger to Israel, but their psychological effect may well assist in bringing about an early ceasefire!
Gaza militants renew rocket fire toward southern Israel; Palestinians report 5 killed and 10 wounded in IDF strikes in Gaza; Hamas, Islamic Jihad chiefs in Cairo to discuss details of possible cease-fire; U.S. Secretary of State Hillary Clinton due to come to Israel to discuss Gaza operation; top Israeli ministers decide to give more time for cease-fire efforts; IDF strikes 100 targets in Gaza overnight.
By Haaretz     | Nov.20, 2012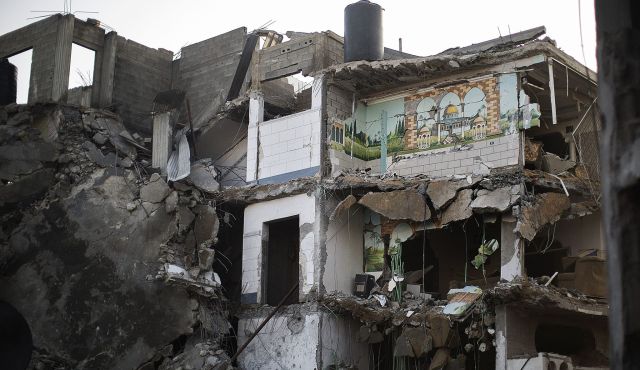 A decision on whether to launch a ground invasion of Gaza has been put off by at least a day, after Israel decided Monday to give the Egyptians more time to try to broker a cease-fire with Hamas, a senior Israeli official said.
The head of Hamas' political bureau and Islamic Jihad secretary-general plan to meet with Egyptian intelligence chief Gen. Raafat Shehata again on Tuesday, in an attempt to finalize details of a cease-fire agreement. The talks in Cairo, which are being led by Shehata, are expected to be decisive. The Israeli delegates to the talks plan to return to Cairo today to present Israel's response to demands being made by Hamas. Senior Egyptian officials told Haaretz that the sides are very close, but that some more flexibility is needed from the Israeli side.
U.S. Secretary of State Hillary Clinton and UN Secretary-General Ban Ki-moon are expected to arrive in Israel on Tuesday, where they will meet with Prime Minister Benjamin Netanyahu on Wednesday.
More than 60 rockets were fired from the Gaza Strip toward southern Israel on Tuesday morning. The Palestinians reported that five people were killed in the Strip on Tuesday morning.