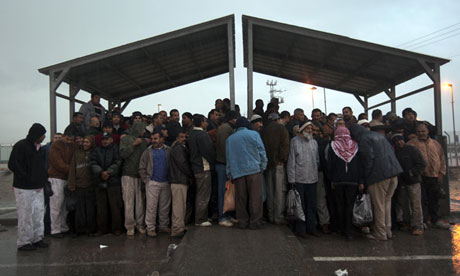 Palestinian workers wait for transportation at an Israeli army checkpoint near Eyal. Photograph: Menahem Kahana/AFP/Getty Images
The Israeli government will on Monday begin operating a "Palestinians-only" bus service to ferry Palestinian workers from the West Bank toIsrael, encouraging them to use it instead of travelling with Israeli settlers on a similar route.
Officially anyone can use them, but the ministry of transport said that the new lines are meant to improve services for Palestinians.
Information on the new services, which are operated by the company Afikim, have reportedly only been advertised in Arabic and distributed only in Palestinian areas of the West Bank.
The buses will run from the Eyal checkpoint by the Palestinian town of Qalqiliya across the border of the West Bank towards Tel Aviv. The passengers are Palestinians who have been granted permits by the army to enter Israel during the day to work.
Palestinians used to use Palestinian minibuses and taxis to travel into Israel but Israel has increased the number of permits it gives to Palestinians which has led to more mixing on shared routes.
In a statement to the Israeli newspaper, Yedioth Ahronoth, the ministry said: "The new lines are not separate lines for Palestinians but rather two designated lines meant to improve the services offered to Palestinian workers who enter Israel through Eyal Crossing.
"The new lines will replace irregular, pirate lines that charge very high prices from Palestinian passengers. The new lines will reduce congestion and will benefit Israelis and Palestinians alike."
The ministry also said it is against the law to prevent any passenger from boarding a bus but Israeli civil rights groups said this was not the case in practice.
The Israeli civil rights group, Checkpoint Watch, which monitors the army's treatment of Palestinians at West Bank checkpoints has reported recent incidents of Palestinians being ejected from buses and told they were not allowed to board them.
In 2011 Palestinian activists were arrested after they boarded Israeli buses in the West Bank to protest against segregation.
EDITOR: The Palestinian hunger strikers are nearing death!
Like Bobby Sands in Ireland two decades ago, Samer Issawi is fighting for his people, and in this fight he can only use his body in jail, by refusing food. The Israeli reaction to this desperate step by committed Palestinian was to raise his illegal detention again. Issawi and more than 12,000 other Palestinians are serving time as political prisoners in the Israeli jail system, and until they are released, Israel can never hope for peace and security.
Let us hope that Issawi is luckier than Sands, who died in jail, starving to death. The change in northern Ireland came after his ultimate sacrifice.
In jail, my fellow hunger strikers and I are doing battle against the Israeli occupation that humiliates our people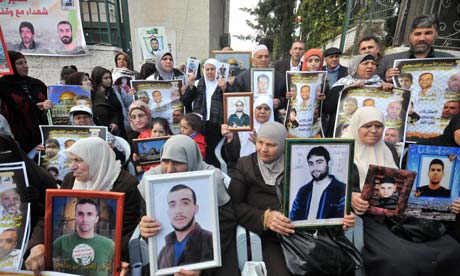 Palestinian families gather in solidarity with hunger-striking prisoners at the Red Cross offices in East Jerusalem. Photograph: Mahmoud Illean/Demotix/Corbis
My story is no different from that of many other Palestinian young people who were born and have lived their whole lives under Israeli occupation. At 17, I was arrested for the first time, and jailed for two years. I was arrested again in my early 20s, at the height of the second intifada in Ramallah, during an Israeli invasion of numerous cities in the West Bank – what Israel called Operation Defensive Shield. I was sentenced to 30 years in prison on charges relating to my resistance to the occupation.
I am not the first member of my family to be jailed on my people's long march towards freedom. My grandfather, a founding member of the PLO, was sentenced to death by the British Mandate authorities, whose laws are used by Israel to this day to oppress my people; he escaped hours before he was due to be executed. My brother, Fadi, was killed in 1994, aged just 16, by Israeli forces during a demonstration in the West Bank following the Ibrahimi mosque massacre in Hebron. Medhat, another brother, has served 19 years in prison. My other brothers, Firas, Ra'afat and Shadi were each imprisoned for five to 11 years. My sister, Shireen, has been arrested numerous times and has served a year in prison. My brother's home has been destroyed. My mother's water and electricity have been cut off. My family, along with the people of my beloved city Jerusalem, are continuously harassed and attacked, but they continue to defend Palestinian rights and prisoners.
After almost 10 years in prison, I was released in the Egypt-sponsored deal between Israel and Hamas to release the Israeli soldier Gilad Shalit in exchange for Palestinian prisoners. However, on 7 July 2012, I was arrested again near Hizma, an area within the municipality of Jerusalem, on charges of violating the terms of my release (that I should not leave Jerusalem). Others who were released as part of that deal were also arrested, some with no declared reason. Accordingly, I began a hunger strike on 1 August to protest against my illegal imprisonment and Israel's violation of the agreement.
My health has deteriorated greatly, but I will continue my hunger strike until victory or martyrdom. This is my last remaining stone to throw at the tyrants and jailers in the face of the racist occupation that humiliates our people.
I draw my strength from all the free people in the world who want an end to the Israeli occupation. My weak heartbeat endures thanks to this solidarity and support; my weak voice gains its strength from voices that are louder, and can penetrate the prison walls.
My battle is not just for my own freedom. My fellow hunger strikers, Ayman, Tarik and Ja'afar, and I are fighting a battle for all Palestinians against the Israeli occupation and its prisons. What I endure is little compared to the sacrifice of Palestinians in Gaza, where thousands have died or been injured as a result of brutal Israeli attacks and an unprecedented and inhuman siege.
However, more support is needed. Israel could not continue its oppression without the support of western governments. These governments, particularly the British, which has a historic responsibility for the tragedy of my people, should impose sanctions on the Israeli regime until it ends the occupation, recognises Palestinian rights, and frees all Palestinian political prisoners.
Do not worry if my heart stops. I am still alive now and even after death, because Jerusalem runs through my veins. If I die, it is a victory; if we are liberated, it is a victory, because either way I have refused to surrender to the Israeli occupation, its tyranny and arrogance.