February 24, 2013
EDITOR: So what is new?
Only a month ago, immediately after the election in Israel, the pundits in Tel Aviv were hailing the result as a 'victory for the left'… Netanyahu's failure to raise even the number of MKs he had in the last Knesset was seen as a defeat of the right. To some, Lapid rise, so reminiscent of the similar rise of his late father's party three decades ago, was sign of the new liberal sun shining over the Middle East.
There are no such voices now, of course. The new Lapid-Bennet pact is clearly the sign of the end of all liberal and left wing hopes for a peaceful solution in Palestine. Netanyahu did not win the votes, but he won the election nonetheless. His coalition, now taking shape, will guarantee the continuation of the occupation, and the continued oppression of Palestinians. Israel has spoken, and its confused, half-hearted and cloudy message is clear only on one point: no peace, no resolution, no justice, no rights for Palestinians. The occupation must go on. This disastrous result will bedevil the region for many years.
Now you demonstrate? After all, we've already told you we no longer care what happens to you.
My Palestinian brothers (for your information, everyone's a "brother" around here these days ), aren't you ashamed? How dare you protest and throw stones? How dare you disturb the peace; build "illegal" outposts on your own private land; go on hunger strikes; demonstrate solidarity with prisoners; protest the closing of Shuhada Street in Hebron and the rearrest of freed prisoners; sneak into Israel to find work; oppose the eviction of people from their homes; protest that you are not allowed to reach your farmlands; protest against the fence that was built in your area; threaten a third intifada? Are you out of your minds? Where do you get such chutzpah?
Now you demonstrate? After all, we've already told you we no longer care what happens to you. Right and left, they all told you loud and clear. Even that warrior for social justice, MK Shelly Yacimovich, told you that Israelis don't care about you, and you just don't understand. Can't you see that we're busy? We have momentous questions before us – sharing the military burden; the number of ministers; Prime Minister-designate Benjamin Netanyahu's pistachio ice cream; Yesh Atid MK Ruth Calderon's inaugural Knesset speech; and Education Minister Gideon Sa'ar's alleged love life.
So who can think about you? Israel is trying to put together a coalition. It is still not clear whether the eternal alliance between Yesh Atid's Yair Lapid and Habayit Hayehudi's Naftali Bennett will last, and you dare to bother us with your foolishness? Lapid doesn't want the "Hanin Zuabis"; Bennett doesn't want "Abu"; and you just don't get it. You don't see they are so worried about the people of Israel that they have no time for you, so how dare you remind them of your existence.
Occupation-shmoccupation; human and civil rights; expulsion and stealing; self-determination; two states for two peoples; the separation fence; 5,000 prisoners – you buzz around like bothersome mosquitoes. Leave us alone, you're boring us.
How much longer are you going to keep bothering us with your little problems? How much longer are you going to keep bothering the world? Can't you see that U.S. President Barack Obama is coming on another emotional-blackmail visit, to prostrate himself on the graves of Yitzhak Rabin and Theodor Herzl and at Yad Vashem, so why should you bother him, either? Sit tight, my brothers: in Syria, things are worse.
Sit tight: the occupation is only 46 years old. Be happy with what you have. You're in good hands – the hands of the only democracy in the Middle East. Don't bother it and don't stop it from continuing to flourish. Its old politics didn't take an interest in you and its new politics – even less. Just ask the harbingers of the new politics, Lapid and Bennett, over whom Israel is so enthusiastic right now. Neither of them probably ever met a (living ) Palestinian in their life, nor do they want to. You'll miss Netanyahu yet, you'll miss Shimon Peres and Ehud Barak, from the old guard. They at least talked to you. So be happy with what you have.
Think ahead. It won't be that long before you are the majority here. And even before that, the world will not stand for you to live without rights. Guilt feelings over the Holocaust will subside. The Jewish lobby – yes, it's Jewish – might lose some of its strength. And besides, natural justice is with you, history is on your side.
Rotten tyrannies like the Israeli occupation have never lasted forever. So sit tight, my brothers, and wait for the future. If it doesn't happen in your lifetime, perhaps it will in your grandchildren's. True, you have suffered enough, but a human being is like a tree in a field; when you get whipped, bend your head submissively. After all, you have tried everything: negotiations and terror; recognition and compromise; the first intifada; the second intifada.
Nothing much came out of it all. The settlers have tripled, the Knesset is full of their representatives, and Israel has completely stopped dealing with you. True, if you sit tight you will be forgotten; if you protest, they will say you are terrorists. But the most important thing is: not now. Not when Israel is busy, not when Israel has had it with you, with your wailing, your sobbing and your demands.
It's hard to be a Palestinian but, remember, it's even harder to be a Jew. A Jew, after all, is always the victim; the only victim around.
Following the conclusion of Friday morning prayers, Palestinian worshipers begin hurling stones at police; dozens of Palestinians wounded in heavy clashes with Israeli forces throughout the West Bank.
By 
Jack Khoury
and 
Nir Hasson
| Feb.22, 2013 | 6:12 PM | 
 58
A masked Palestinian throws back a gas canister during a protest to support Palestinian prisoners, outside Ofer, an Israeli military prison near the West Bank city of Ramallah, Friday, Feb. 22, 2013. Photo by AP
Dozens of Palestinians were wounded across the West Bank and Jerusalem on Friday, Palestinian sources reported, as a result of clashes between protesters and Israeli security forces.
In Jerusalem, Palestinian protesters hurled stones at Israel Police forces following the conclusion of Friday prayers. In a rare move, Israeli police entered the Temple Mount and used stun grenades to disperse the crowd. Dozens were reportedly wounded after inhaling tear gas.
According to Palestinian eyewitnesses, the confrontations began at the conclusion of Friday prayers as many demonstrators marched toward roadblocks the West Bank. IDF soldiers fired tear gas, stun grenades and rubber bullets toward Palestinian protesters, who threw rocks at the soldiers.
In the area around Ramallah, hundreds of Palestinians gathered near the IDF roadblock next to Ofer Prison to rally in support of hunger-striking Palestinian prisoners. At least 12 people were reportedly wounded by rubber bullets or due to tear gas inhalation during clashes with IDF forces.
Heavy clashes also reached the area of Hebron, where Palestinian demonstrators demanded the re-opening of Hebron's Shuhada Street to Palestinian residents, who cannot use the street, and also showed their support for Palestinian prisoners held in Israeli prisons.
As the protesters approached Shuhada Street, IDF soldiers fired tear gas at them. One of the demonstrators said that the procession had been a quiet one and that the demonstrators had no intention of confronting IDF troops. However, the Palestinian witness stated, as the procession neared Shuhada Street they were met with what was described as a very violent response from IDF soldiers, who fired tear gas and stun grenades at them and used other crowd dispersal methods. Palestinian Legislative Council member Mustafa al-Barghouti was wounded along with dozens of others as a result of the tear gas. Clashes also broke out in the area of Tul Karm, Nablus, Jenin and at several Palestinian villages located near the separation barrier.
In the last few days, tension in the West Bank has escalated. Hundreds of Palestinians have participated in a slew of protests, demonstrating in support of hunger-striking Palestinians jailed in Israeli prisons.
Hundreds of young Palestinians from Beitunia demonstrated Thursday in support of hunger-striking prisoners. The youths clashed with Israel Defense Forces soldiers that arrived on the scene with heavy reinforcements, ready to contain the protests.
During the morning protests, Palestinian youths began hurling stones at soldiers and Israeli Border Police officers. Three journalists were lightly wounded by the stones, including Channel 1 correspondent Yoram Cohen, a reporter and a photographer from Channel 10. Palestinian officials reported that 20 people were injured by rubber bullets.
On Thursday, the leader of the northern wing of The Islamic Movement in Israel, Sheik Ra'ad Salah, announced that he has also begun a hunger strike, in solidarity with the prisoners. Two days ago, a tent was erected in Nazareth's Maayan square in support of the prisoners. There, activists distribute information about the prisoners, and released prisoners are available to talk.
On Saturday, a demonstration is scheduled to be held in the city's main street in support of the prisoners, while other protests are expected to continue throughout the West Bank.
EDITOR: The pogroms continue
As the notion of anti-Arab pogrom is becoming normalised in Israel – a toxic import from the settlements – the latest brutal attack happens in Jaffa, very near the place I grew up in. It matters not to racists that these are actually citizens of Israel – they are not fooled by silly democracy – and such attacks are spreading to other parts of the country. These attacks bear all the signs of the typical anti-Semitic attacks on Jews in Eastern Europe during the early 20th century. The perpetrators are never caught or brought to justice, surprisingly.
40-year-old Jaffa resident was beaten with glass bottles early Sunday morning; victim's wife says attacking youths claimed 'Arabs are taking over the country.'
By 
Jack Khoury
and Yaniv Kubovich | Feb.24, 2013 | 7:45 PM | 
 1
Hassan Ausruf in Tel-Aviv's Sourasky Medical Center Photo by Daniel Bar-On
A 40-year-old Jaffa resident was attacked early Sunday morning in Tel Aviv by Jewish youths and sustained serious wounds to his head. The attack, which occurred on Herbert Samuel Street around 4:00 A.M. after the victim, Hassan Ausruf, 40, had gone out to work. Ausruf operates a street-cleaning vehicle for contractor cleaning company. When Ausruf stopped his vehicle to fill its water tank, a group of youths assaulted him.
Ausruf's wife, Nariman, told Haaretz that a group of about 15 people started to bully and attack Hassan without provocation. "He asked them why they were attacking him and they told him with utmost chutzpah 'because you're Arab,'" Nariman told Haaretz. "They attacked him with whatever they could get their hands on, bottles and shards of glass and they inflicted serious wounds to his head and in one of his eyes." She added, "At some point he managed to escape with his entire face covered in blood and reached a friend where he collapsed."
A Magen David Adom ambulance took Ausruf to Wolfson Medical Center in Holon where he was treated for deep cuts to his face and fractures to his skull and the region surround one of his eyes. "There's no doubt that he was saved by a miracle," said Nariman. "We have lived in this city for decades and we have never encountered this kind of violence and racism. They simply beat him because he is Arab and told him that Arabs were trying to take over the country."
Tel Aviv Police have opened an investigation into the incident. Police stated that the group that attacked Ausruf was dark-skinned and it is believed that they were a group of Ethiopian-Israelis that left a Purim party. Police also stated that no suspects were arrested at the time of this report.
EDITOR: No torture in Israel, ever…
In the only Jewish democracy in the Middle East, prisoners die all the time, just like Prisoner X, who has managed to commit suicide in the most watched cell in the known universe… Now, a Palestinian prisoner, Arafat Jaradat, has died of torture, it seems… but of course, this cannot happen in Israel, where no one is being tortured, so he just died in order to annoy the Israelis, of course.
PA chief pathologist, present at Arafat Jaradat's autopsy, says body of the prisoner, who died on Saturday, has signs of torture; medical examination lists no cause of death; Israeli officials: No signs of torture.
Palestinian women take part in a protest against the death of a Palestinian detainee in an Israeli jail, in Gaza City, Feb. 24, 2013. Photo by Reuters
The Palestinian prisoner who died in Megiddo Prison on Saturday did not expire from a heart attack, as Israeli officials previously claimed, but from torture, says a Palestinian doctor who was present for the autopsy performed by an Israeli doctor Sunday.
Saber Aloul, chief pathologist of the Palestinian Authority, who attended the autopsy in Israel, said marks on Arafat Jaradat's body showed he had been tortured during his interrogation.
The autopsy, performed at the National Institute of Forensic Medicine, listed no
cause of death.
The Shin Bet security service denied Aloul was tortured. A Health Ministry spokesperson said no exterior signs of injuries were discovered during the medical examination, apart from resuscitation bruises and a small abrasion on the right side of Jaradat's chest.
The examination was conducted by the institute's chief pathologist, Yehuda Hiss, in the presence of Aloul and the head of the Health Ministry's medical administration, Prof. Arnon Afek.
Prior to the autopsy, Israeli officials had said Jaradat likely died of cardiac arrest, while Palestinians believed he died as a result of torture.
No sign of heart failure was found during the examination, nor was any other sign of illness, according to Aloul and Israeli officials.
Pathologists are now awaiting the results of microscopic and toxicology tests, which might take days or even weeks to receive.
Jaradat's death sparked clashes throughout the West Bank Sunday and Palestinians called for an international investigation of Israel's treatment of detained Palestinians.
In all, Israel holds close to 4,600 Palestinians on a range of charges, from throwing stones at Israelis to involvement in deadly shooting and bombing attacks. Of the detainees, 159 are being held without charges or trial in administrative detention.
According to the Shin Bet, Jaradat was arrested last Monday, after residents of his village said he was involved in a rock-throwing attack that injured an Israeli. Jaradat admitted to the charge, as well as to another West Bank rock-throwing incident last year, the Shin Bet said.
The Shin Bet said that during interrogation he was examined several times by a doctor who detected no health problems. On Saturday, he was in his cell and
felt unwell after lunch, the security service said in a statement. "Rescue services and a doctor were alerted and treated him. They didn't succeed in saving his life," the statement said.
A Shin Bet spokesman, speaking on condition of anonymity in line with protocol, said Jaradat was not beaten during his interrogation, nor was he subjected to any treatment that could have affected his health. Jaradat was not on a hunger strike, said Sivan Weizman of the Israel Prison Service. Prior to the autopsy, Weizman said Jaradat had died of an apparent heart attack.
Jaradat's attorney, Kamil Sabbagh, said his client told an Israeli military judge during a hearing on Thursday that he was being forced to sit for long periods during interrogation. He also complained of back pain and seemed terrified to return to the Shin Bet lockup, but did not have any apparent signs of physical abuse, Sabbagh said.
After the court hearing, the judge ordered Jaradat to be examined by a prison doctor.
Jaradat, a father of a 4-year-old daughter and 2-year-old son, worked as a gas station attendant. His wife, Dalal, is pregnant, relatives said. Issa Karake, a Palestinian official who handles prisoner issues, said he holds Israel responsible for Jaradat's death, alleging ill-treatment and medical negligence. Karake called for an independent international investigation of Israel's treatment of Palestinian detainees.
The human rights group B'Tselem also demanded an investigation, including how Jaradat was questioned.
The agency routinely holds detainees in isolation for extended periods during interrogation, keeping them in cells that are lit around the clock and denying them access to lawyers, said Sarit Michaeli, a spokeswoman for the group.
She said that physical mistreatment of detainees had dropped sharply in recent years, but has not disappeared, according to affidavits by released prisoners. She also said detainees have filed some 700 complaints about mistreatment by Shin Bet agents during the past decade, but that none has led to a criminal investigation.
Death of 30-year-old man sparks violent clashes in Hebron that leave three Palestinians and one Israeli soldier injured
Phoebe Greenwood in Hebron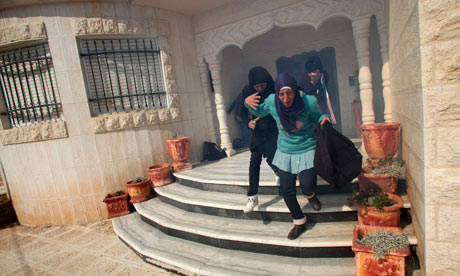 Palestinian students take cover from tear gas fired by Israeli security forces during clashes in the village of Saair following the death of a Palestinian prisoner held in Israel. Photograph: Hazem Bader/AFP/Getty Images
A Palestinian prisoner whose death in Israeli custody fanned violent clashes across the West Bank over the weekend was tortured before he died, the Palestinian Authority has said.
The results of an autopsy conducted in Tel Aviv were revealed at a press conference in Ramallah on Sunday evening after a day of angry protests across West Bank and Gaza in which dozens were injured.
The findings contradict claims by the Israeli prison service that Arafat Jaradat died on Saturday from a cardiac arrest. A Palestinian doctor's investigations found that while Jaradat's arteries were clear, his bruised and bloody body suggested he had been beaten in the days before his death.
The 30-year-old, a petrol station worker and father of two, was arrested on 18 February in relation to a stone-throwing incident in November during which an Israeli was slightly injured.
Aside from an old back injury inflicted by a teargas canister, his relatives insist he was healthy when he was arrested.
Just a few days later, he died in Megiddo prison..
Kameel Sabbagh, a lawyer who attended Jaradat's last hearing on Thursday, has claimed that he had advised the Israeli Judge that his client had been tortured and should be examined by the prison doctor. According to Sabbagh, this did not happen.
"He had serious pains in his back and other parts of his body because he was being beaten up and hanged for many long hours while he was being investigated," Sabbagh told Ma'an news agency. Sabbagh's notes from the court hearing describe his client as "extremely afraid" of returning to his cell.
A rumour that he had been beaten to death during an interrogation spread quickly through Hebron on Sunday where hundreds of protesters clashed with Israeli soldiers for the second day running in the streets kilometres from Jaradat's home.
"When the soldiers came to arrest him last week, they told him say goodbye to your wife and your babies, you won't be seeing them again," said Mohamed Hashlamon, 58, as he watched masked Palestinian youths hurl concrete blocks from the roof above his home in downtown Hebron to arm themselves with the rubble.
A phalanx of Israeli soldiers lining the border between the Israeli and Palestinian quarters answered rocks with rubber bullets and tear gas. Three Palestinians and one Israeli soldier were injured in the clashes.
"People here are angry. They will fight until night fall and they will protest again from 10am tomorrow just as they did yesterday," Hashlamon said. Jaradat's body was taken for an autopsy in Tel Aviv on Saturday and will be returned to his pregnant wife for burial in their village of Saeer after midday prayers on Monday.
His death has inflamed already heightened tensions across the occupied Palestinian territory. On Friday, hundreds clashed with Israeli soldiers in a continuation of months-long demonstrations supporting four hunger-striking Palestinian prisoners held without charge in Israeli jails. On Saturday, nine Palestinians were injured, one critically, when settlers used live rounds of fire in clashes near Nablus.
The Hebrew-language media have noted with alarm that the Palestinian Authority is doing little to dissuade protests but is lending its voice to the popular outrage. Issa Qaraqea, the PA's minister for prisoners' affairs, expressed his suspicion of foul play in Jaradat's death.
"Our information was that Jaradat was being interrogated and then he died. Therefore we call for an international investigation into his death that may have resulted from torture," he told Reuters.
As night fell on Sunday, the West Bank showed no sign of calming. In Beitunia, near Ramallah, two teenagers were reportedly hit with live rounds fired by Israeli soldiers. One, the 15 year-old son of the Palestinian secret services chief, was undergoing surgery having been shot in the stomach.
"Statements from the international community calling upon Israel to 'respect Palestinian prisoner rights' are insufficient when Israel can arrest, incarcerate and even kill Palestinians without … consequences for its appalling actions," a statement from the Palestinian leadership read. "Without justice, there will be no peace."
EDITOR: While Israel is playing coalition forming, Palestinians are moving towards a general action against the occupation
The PA government has done all it can to assuage Israeli interests and to scotch Palestinian anger and frustration, but it seems they were not that successful. After months of hunger strike but growing numbers of Palestinian political prisoners, the population in the West Bank is rising again against the brutalities of the occupation. If Israel counts on the PA to do its dirty work, maybe it is a miscalculation? They may not be able to deliver the goods this time round.
As support for Palestinian hunger-striking prisoners grows throughout the Arab world, releasing them is a small price to pay to deflect increasing pressure from Israel.
By 
Zvi Bar'el
| Feb.24, 2013 | 12:38 PM | 
 3
Palestinian women take part in a protest against the death of a Palestinian detainee in an Israeli jail, in Gaza City, Feb. 24, 2013. Photo by Reuters
Clashes in the West Bank, Feb. 2013.Photo by AFP and Haaretz
The death of Arafat Jaradat in the Megiddo Prison, together with the 216-day-long hunger strike of Samer el-Issawi and the hunger strike of three other prisoners, the demonstrations commemorating the anniversary of the massacre perpetrated by Baruch Goldstein in Hebron in 1994, the clashes in the village of Kosra in the Nablus district – all these are supposedly "local incidents" that can be easily defeated by a few smoke grenades, rubber bullets and arrests.
Nobody describes them as an intifada yet, and with good reason. The term "intifada" is reserved for an all-out war, a series of terror attacks, call-ups of the reserves and flooding the ground with troops. These things have not happened yet in the West Bank.
The Fatah leadership, headed by Palestinian President Mahmoud Abbas (Abu Mazen), has announced that they will not allow the outbreak of a new intifada. Certainly they will not allow it on the eve of U.S. President Barack Obama's historic visit to Israel. Nor will they allow it when Abbas's representatives, Saeb Erekat and Muhammad Shtaya, are holding talks about the scheduling of the visit of U.S. Secretary of State John Kerry. But all it takes is the death of one of the prisoners on a hunger strike or several youths being killed by IDF gunfire to make the Palestinian Authority lose its restraining power, which is not all that much in any case.
Quite a few groups are operating in the West Bank, including Abbas's critics and rivals within Fatah, who believe that he is not strong enough to cause a change in Israel's policy. Some of them are demanding that the Palestinian Authority be dismantled and Israel "handed back the keys." Others fear that Abbas's political moves against Hamas could shut Fatah out of the positions that control wealth and power. Setting the ground ablaze could serve those groups, locking Abbas into a belligerent stance he never intended to take.
This is not Abbas's dilemma only. For now, the demonstrations and clashes have attained one important goal: the affair of the prisoners has led to demonstrations of support and statements of solidarity in Beirut, Egypt and Jordan, and "serious concern" by UN Secretary General Ban Ki-moon. They have also been discussed in Washington by the Palestinian emissaries, and the Arab League intends to transfer the matter to the Security Council.
But all this international activity will not impress the activists on the ground, or the prisoners, as long as Israel gives nothing in exchange or makes no compromises. As usual, the question is whether Israel will succeed in taking an important measure before things go out of control, or wait for more pressure from the ground and from the international community. On several occasions in the past, Israel realized that there was no sense in dealing stubbornly with a hunger strike, which not only won support but also put it under international pressure that it didn't need. The case of Khader Adnan, an Islamic Jihad operative whom Israel released from prison where he had been under administrative detention after a 67-day hunger strike, is just one example.
Even if the price of dealing quickly and rapidly with the jailed hunger strikers involves making concessions, it is still much lower than an escalation that could cause hunger strikes to spread to all the prisons and nourish clashes in the city streets. In a situation where there is still no government in Israel that can make decisions on the peace process, start talks with the Palestinian Authority and offer a practical peace arrangement, the least Israel can do is calm inflamed areas. The most sensitive among them is the matter of the hunger-striking prisoners.