November 18, 2012
EDITOR: The BBC has again supported Israel in its crimes!
For those of us who support the BBC as a crucial part of the public arena in the UK, now under attack by the Tory dogs of war, it has again become very difficult to defend an institution devoted to impartiality, taking Israel's side on every turn of the road, on every news bulletin. The loses of the aggressor are always reported first, and those of the people under attack are glossed over or disregarded. The language and terminology comes out of the Israeli Hasbara guidebook, it seems, and the sentiments are all one sided. It makes sense for the national broadcaster of one aggressor nation in a war against Islam, to take the part of another aggressor nation against Islam, of course. It makes no sense for a public broadcaster with responsibility for truth and impartiality to do that, and we are all financing Auntie BBC and rightly feel we own it.
On Gaza, and on Palestine, the BBC does not speak for the people of Britain. It speaks for Israel and for the Tory-LibDem Coalition administration. One has to admit that the government of the war criminal Tony Blair was no better on Palestine, for the same reasons.
To remind you how horrible the BBC can be on Palestine, I suggest looking at this memorable and incredible clip of Tony Benn, the secular saint of British public life, during the 2009 massacre in Gaza, when the BBC has shamefully refused to broadcast the details of DEC Gaza appeal. Watch and wonder!
Diplomats at the United Nations said Secretary-General Ban Ki-moon is expected to visit Israel and Egypt in the coming week to push for an end to the fighting.
By Avi Issacharoff     | Nov.18, 2012
Hamas Prime Minister Ismail Haniyeh Photo by AP
Ismail Haniyeh, the prime minister of the Hamas government in the Gaza Strip, told Egyptian President Mohammed Morsi over the weekend that he supported the efforts to mediate a temporary cease-fire with Israel.
The cease-fire must comprise a clear guarantee from Israel that it would not resume its attacks on Gaza, Haniyeh told Morsi in a telephone conversation.
The two leaders spoke after Egyptian intelligence officials met with Hamas political bureau chief, Khaled Meshal, and his deputy, Mussa Abu Marzouk.
Israeli Prime Minister Benjamin Netanyahu told foreign leaders, including U.S. President Barack Obama and German Chancellor Angela Merkel, over the weekend that he was prepared for a comprehensive cease-fire in the Gaza Strip as soon as possible, if the rocket firing stops. The foreign leaders asked Netanyahu not to escalate the fighting and to give several days to the intensive mediation efforts Egypt has been leading during the course of the weekend.
In Cairo over the weekend, as the Egyptian security deputies sought to broker a truce with Hamas leaders, Morsi said that "there are some indications that there is a possibility of a cease-fire soon, but we do not yet have firm guarantees."
Egypt has mediated previous cease-fire deals between Israel and Hamas, the latest of which unraveled with recent violence.
A Palestinian official told Reuters the truce discussions would continue in Cairo on Sunday, saying "there is hope," but it was too early to say whether the efforts would succeed.
In Jerusalem, an Israeli official declined to comment on the negotiations. Military commanders said Israel was prepared to fight on to achieve a goal of halting rocket fire from Gaza, which has plagued Israeli towns since late 2000, when failed peace talks led to the outbreak of a Palestinian uprising.
Diplomats at the United Nations said Secretary-General Ban Ki-moon is expected to visit Israel and Egypt in the coming week to push for an end to the fighting.
EDITOR: The Gaza massacre 2012 in pictures from across the world
This current brutal massacre by Israel has started a wave of angry creativity across the globe, and I include here a tiny selection of the images now flying across the international screens:
Attack believed to be aimed at Hamas official increases death toll of military offensive to 67 people
Harriet Sherwood in Jerusalem
A Palestinian man kisses the hand of a dead relative in the Shifa hospital morgue in Gaza City on day five of the Israeli bombardment. Photograph: Bernat Armangue/AP
At least 11 members of one family, including five women and four children, were killed when Israel bombed a house in Gaza City on Sunday as the five-day-old war claimed more civilian lives with no sign of a letup in the intense bombardment.
The air strike flattened the home of the Dalou family in the Sheikh Radwan district of Gaza City, causing the biggest death toll in a single incident since the offensive began last Wednesday.
The bodies of the children were pulled from the rubble and taken to the morgue at the Shifa hospital. The dead also included an 80-year-old woman.
Ismael Haniyeh, the Hamas prime minister, described the deaths as an "ugly massacre" and its military wing, al-Qassam Brigades, said: "The massacre of the Dalou family will not pass without punishment."
Diggers at the scene of the explosion were scooping rubble from flattened buildings as rescuers tried to locate survivors.
Witnesses said there were chaotic scenes as the dead and injured were brought to the Shifa hospital, which has been on emergency footing since the start of Operation Pillar of Defence.
The bodies of four young children lay on two metal trays in the morgue, covered in dust and blood. A crowd of onlookers outside became increasingly distressed as the body of the children's mother was wheeled in, covered in blankets.
The strike was believed to be aimed at a Hamas official, Mohamed Dalou.
A spokesman for the Israeli Defence Forces said the military could not confirm the target but said "senior operatives affiliated with rocket fire" were being pinpointed.
A Gaza health official, Ashraf al-Kidra, said the military offensive had claimed the lives of 67 people by sunset on Sunday, including 32 civilians. Three Israelis were killed by a rocket fired from Gaza last Thursday. After an overnight lull in rocket fire from Gaza, Hamas and other groups renewed their attacks on Sunday. Sirens were activated in Tel Aviv for the third day running. Israel Army Radio reported that two rockets fired at the city were shot down by Iron Dome defence system.
The tactic of targeting militants' homes carries the risk of further high casualties in the densely populated areas of Gaza's main cities. Many militants have moved their families to safer areas before going into hiding themselves. The Israeli military has also expanded the scope of its targets to take in Hamas-run government offices and compounds.
Some families living near militants or government buildings are leaving their homes to move in with relatives in signs of increasing internal displacement within the small and crowded Gaza Strip.
Israel claims it is carrying out "surgical strikes" and is making strenuous efforts to avoid civilian casualties. "It is our intention to avoid what is called collateral damage," Moshe Yaalon, minister for strategic affairs, told a press conference in Jerusalem. "We operate slowly, identify the target and clean the area around it," he added, referring to warnings issued via dropped leaflets and text messages to civilians to stay away from individuals and locations likely to be targeted.
"But when they use civilians as human shields, what is our choice?" he said. "If they position rockets in densely populated areas, such as mosques and schoolyards, we should not be blamed for the outcome."
The World Health Organisation warned that Gaza's medical facilities were being overwhelmed as the number of people injured in air strikes topped 400, about one-third of whom are children.
"Many of those injured have been admitted to hospitals with severe burns, injuries from collapsing buildings and head injuries," the WHO said in a statement issued in Geneva. The UN body appealed for $10m (£6.3m) in immediate international support to help them cope with the casualties.
Sunday's death toll came after a night of heavy bombardment, including repeated and intensive fire from gunboats stationed off the Gaza coast.
Two buildings housing media organisations were struck in the early hours, injuring eight Palestinian journalists including a cameraman who lost a leg.
The al-Shawa building, which includes the studios of al-Quds television, which is associated with Islamic Jihad, and the al-Shuruq building, housing Sky News, al-Arabiya news network, Dubai TV and an office of al-Aqsa TV, which is affiliated with Hamas, were hit.
In a statement, the Israeli Defence Forces said: "A communications antenna used by Hamas to carry out terror activity against the state of Israel, was … targeted." The IDF denied that journalists were targeted.
Israel opened the Kerem Shalom crossing to Gaza briefly to allow humanitarian aid to enter and 26 patients and their families to leave for medical treatment.
By Jonathan Cook – 18 Nov 2012
The four guilty parties behind Israel's attack
A short interview broadcast by CNN late last week featuring two participants – a Palestinian in Gaza and an Israeli within range of the rocket attacks – did not follow the usual script.
For once, a media outlet dropped its role as gatekeeper, there to mediate and therefore impair our understanding of what is taking place between Israel and the Palestinians, and inadvertently became a simple window on real events.
The usual aim of such "balance" interviews relating to the Israeli-Palestinian conflict is twofold: to reassure the audience that both sides of the story are being presented fairly; and to dissipate potential outrage at the deaths of Palestinian civilians by giving equal time to the suffering of Israelis.
But the deeper function of such coverage in relation to Gaza, given the media's assumption that Israeli bombs are simply a reaction to Hamas terror, is to redirect the audience's anger exclusively towards Hamas. In this way, Hamas is made implicitly responsible for the suffering of both Israelis and Palestinians.
The dramatic conclusion to CNN's interview appears, however, to have otherwise trumped normal journalistic considerations.
The pre-recorded interview via Skype opened with Mohammed Sulaiman in Gaza. From what looked like a cramped room, presumably serving as a bomb shelter, he spoke of how he was too afraid to step outside his home. Throughout the interview, we could hear the muffled sound of bombs exploding in the near-distance. Mohammed occasionally glanced nervously to his side.
The other interviewee, Nissim Nahoom, an Israeli official in Ashkelon, also spoke of his family's terror, arguing that it was no different from that of Gazans. Except in one respect, he hastened to add: things were worse for Israelis because they had to live with the knowledge that Hamas rockets were intended to harm civilians, unlike the precision missiles and bombs Israel dropped on Gaza.
The interview returned to Mohammed. As he started to speak, the bombing grew much louder. He pressed on, saying he would not be silenced by what was taking place outside. The interviewer, Isha Sesay, interrupted – seemingly unsure of what she was hearing – to inquire about the noise.
Then, with an irony that Mohammed could not have appreciated as he spoke, he began to say he refused to be drawn into a comparison about whose suffering was worse when an enormous explosion threw him from his chair and severed the internet connection. Switching back to the studio, Sesay reassured viewers that Mohammed had not been hurt.
The bombs, however, spoke more eloquently than either Mohammed or Nissim.
If Mohammed had had more time, he might have been able to challenge Nissim's point about Israelis' greater fears as well as pointing to another important difference between his and his Israeli interlocutor's respective plights.
The far greater accuracy of Israel's weaponry in no way confers peace of mind. The fact is that a Palestinian civilian in Gaza is in far more danger of being killed or injured by one of Israel's precision armaments than an Israeli is by one of the more primitive rockets being launched out of Gaza.
In Operation Cast Lead, Israel's attack on Gaza in winter 2008-09, three Israelis were killed by rocket attacks, and six soldiers died in fighting. In Gaza, meanwhile, nearly 1,400 Palestinians were killed, of whom at least 1,000 were not involved in hostilities, according to the Israeli group B'Tselem. Many, if not most, of those civilians were killed by so-called precision bombs and missiles.
If Israelis like Nissim really believe they have to endure greater suffering because the Palestinians lack accurate weapons, then maybe they should start lobbying Washington to distribute its military hardware more equitably, so that the Palestinians can receive the same allocations of military aid and armaments as Israel.
Or alternatively, they could lobby their own government to allow Iran and Hizbullah to bring into Gaza more sophisticated technology than can currently be smuggled in via the tunnels.
The other difference is that, unlike Nissim and his family, most people in Gaza have nowhere else to flee. And the reason that they must live under the rain of bombs in one of the most densely populated areas on earth is because Israel – and to a lesser extent Egypt – has sealed the borders to create a prison for them.
Israel has denied Gaza a port, control of its airspace and the right of its inhabitants to move to the other Palestinian territory recognised by the Oslo accords, the West Bank. It is not, as Israel's supporters allege, that Hamas is hiding among Palestinian civilians; rather, Israel has forced Palestinian civilians to live in a tiny strip of land that Israel turned into a war zone.
So who is chiefly to blame for the escalation that currently threatens the nearly two million inhabitants of Gaza? Though Hamas' hands are not entirely clean, there are culprits far more responsible than the Palestinian militants.
First culprit: The state of Israel
The inciting cause of the latest confrontation between Israel and Hamas has little to do with the firing of rockets, whether by Hamas or the other Palestinian factions.
The conflict predates the rockets – and even the creation of Hamas – by decades. It is the legacy of Israel's dispossession of Palestinians in 1948, forcing many of them from their homes in what is now Israel into the tiny Gaza Strip. That original injustice has been compounded by the occupation Israel has not only failed to end but has actually intensified in recent years with its relentless siege of the small strip of territory.
Israel has been progressively choking the life out of Gaza, destroying its economy, periodically wrecking its infrastructure, denying its inhabitants freedom of movement and leaving its population immiserated.
One only needs to look at the restrictions on Gazans' access to their own sea. Here we are not considering their right to use their own coast to leave and enter their territory, simply their right to use their own waters to feed themselves. According to one provision of the Oslo accords, Gaza was given fishing rights up to 20 miles off its shore. Israel has slowly whittled that down to just three miles, with Israeli navy vessels firing on fishing boats even inside that paltry limit.
Palestinians in Gaza are entitled to struggle for their right to live and prosper. That struggle is a form of self-defence – not aggression – against occupation, oppression, colonialism and imperialism.
Second culprit: Binyamin Netanyahu and Ehud Barak
The Israeli prime minister and defence minister have taken a direct and personal hand, above and beyond Israel's wider role in enforcing the occupation, in escalating the violence.
Israel and its supporters always make it their first priority when Israel launches a new war of aggression to obscure the timeline of events as a way to cloud responsibility. The media willingly regurgitates such efforts at misdirection.
In reality, Israel engineered a confrontation to provide the pretext for a "retaliatory" attack, just as it did four years earlier in Operation Cast Lead. Then Israel broke a six-month ceasefire agreed with Hamas by staging a raid into Gaza that killed six Hamas members.
This time, on 8 November, Israel achieved the same end by invading Gaza again, on this occasion following a two-week lull in tensions. A 13-year-old boy out playing football was killed by an Israeli bullet.
Tit-for-tat violence over the following days resulted in the injury of eight Israelis, including four soldiers, and the deaths of five Palestinian civilians, and the wounding of dozens more in Gaza.
On November 12, as part of efforts to calm things down, the Palestinian militant factions agreed a truce that held two days – until Israel broke it by assassinating Hamas military leader Ahmed Jabari. The rockets out of Gaza that followed these various Israeli provocations have been misrepresented as the casus belli.
But if Netanyahu and Barak are responsible for creating the immediate pretext for an attack on Gaza, they are also criminally negligent for failing to pursue an opportunity to secure a much longer truce with Hamas.
We now know, thanks to Israeli peace activist Gershon Baskin, that in the period leading up to Jabari's execution Egypt had been working to secure a long-term truce between Israel and Hamas. Jabari was apparently eager to agree to it.
Baskin, who was intimately involved in the talks, was a credible conduit between Israel and Hamas because he had played a key role last year in getting Jabari to sign off on a prisoner exchange that led to the release of Israeli soldier Gilad Shalit. Baskin noted in the Haaretz newspaper that Jabari's assassination "killed the possibility of achieving a truce and also the Egyptian mediators' ability to function."
The peace activist had already met Barak to alert him to the truce, but it seems the defence minister and Netanyahu had more pressing concerns than ending the tensions between Israel and Hamas.
What could have been more important than finding a mechanism for saving lives, on both the Palestinian and Israeli sides. Baskin offers a clue: "Those who made the decision must be judged by the voters, but to my regret they will get more votes because of this."
It seems Israel's general election, due in January, was uppermost in the minds of Netanyahu and Barak.
A lesson learnt by Israeli leaders over recent years, as Baskin notes, is that wars are vote-winners solely for the right wing. That should be clear to no one more than Netanyahu. He has twice before become prime minister on the back of wars waged by his more "moderate" political opponents as they faced elections.
Shimon Peres, a dove by no standard except a peculiar Israeli one, launched an attack on Lebanon, Operation Grapes of Wrath, that cost him the election in 1996. And centrists Ehud Olmert and Tzipi Livni again helped Netanyahu to victory by attacking Gaza in late 2008.
Israelis, it seems, prefer a leader who does not bother to wrap a velvet glove around his iron fist.
Netanyahu was already forging ahead in the polls before he minted Operation Pillar of Defence. But the electoral fortunes of Ehud Barak, sometimes described as Netanyahu's political Siamese twin and a military mentor to Netanyahu from their commando days together, have been looking grim indeed.
Barak desperately needed a military rather than a political campaign to boost his standing and get his renegade Independence party across the electoral threshold and into the Israeli parliament. It seems Netanyahu, thinking he had little to lose himself from an operation in Gaza, may have been willing to oblige.
Third culprit: The Israeli army
Israel's army has become addicted to two doctrines it calls the "deterrence principle" and its "qualitative military edge". Both are fancy ways of saying that, like some mafia heavy, the Israeli army wants to be sure it alone can "whack" its enemies. Deterrence, in Israeli parlance, does not refer to a balance of fear but Israel's exclusive right to use terror.
The amassing of rockets by Hamas, therefore, violates the Israeli army's own sense of propriety, just as Hizbullah's stockpiling does further north. Israel wants its neighbouring enemies to have no ability to resist its dictates.
Doubtless the army was only too ready to back Netanyahu and Barak's electioneering if it also provided an opportunity to clean out some of Hamas' rocket arsenal.
But there is another strategic reason why the Israeli army has been chomping at the bit to crack down on Hamas again.
Haaretz's two chief military correspondents explained the logic of the army's position last week, shortly after Israel killed Jabari. They reported: "For a long time now Israel has been pursuing a policy of containment in the Gaza Strip, limiting its response to the prolonged effort on the part of Hamas to dictate new rules of the game surrounding the fence, mainly in its attempt to prevent the entry of the IDF into the 'perimeter,' the strip of a few hundred meters wide to the west of the fence."
In short, Hamas has angered Israeli commanders by refusing to sit quietly while the army treats large areas of Gaza as its playground and enters at will.
Israel has created what it terms a "buffer zone" inside the fence around Gaza, often up to a kilometre wide, that Palestinians cannot enter but the Israeli army can use as a gateway for launching its "incursions". Remote-controlled guns mounted on Israeli watch-towers around Gaza can open fire on any Palestinian who is considered to have approached too close.
Three incidents shortly before Jabari's extra-judicial execution illustrate the struggle for control over Gaza's interior.
On November 4, the Israeli army shot dead a young Palestinian man inside Gaza as he was reported to have approached the fence. Palestinians say he was mentally unfit and that he could have been saved by medics had ambulances not been prevented from reaching him for several hours.
On November 8, as already noted, the Israeli army made an incursion into Gaza to attack Palestinian militants and in the process shot dead a boy playing football.
And on November 10, two days later, Palestinian fighters fired an anti-tank missile that destroyed a Jeep patrolling the perimeter fence around Gaza, wounding four soldiers.
As the Haaretz reporters note, Hamas appears to be trying to demonstrate that it has as much right to defend its side of the "border fence" as Israel does on the other side.
The army's response to this display of native impertinence has been to inflict a savage form of collective punishment on Gaza to remind Hamas who is boss.
Fourth culprit: The White House
It is near-impossible to believe that Netanyahu decided to revive Israel's policy of extra-judicial executions of Hamas leaders – and bystanders – without at least consulting the White House. Israel clearly also held off from beginning its escalation until after the US elections, restricting itself, as it did in Cast Lead, to the "downtime" in US politics between the elections and the presidential inauguration.
That was designed to avoid overly embarrassing the US president. A fair assumption must be that Barack Obama approved Israel's operation in advance. Certainly he has provided unstinting backing since, despite the wildly optimistic scenarios painted by some analysts that he was likely to seek revenge on Netanyahu in his second term.
Also, it should be remembered that Israel's belligerence towards Gaza, and the easing of domestic pressure on Israel to negotiate with Hamas or reach a ceasefire, has largely been made possible because Obama forced US taxpayers to massively subsidise Israel's rocket interception system, Iron Dome, to the tune of hundreds of millions of dollars.
Iron Dome is being used to shoot down rockets out of Gaza that might otherwise have landed in built-up areas of Israel. Israel and the White House have therefore been able to sell US munificence on the interception of rockets as a humanitarian gesture.
But the reality is that Iron Dome has swung Israel's cost-benefit calculus sharply in favour of greater aggression because it is has increased Israel's sense of impunity. Whatever Hamas' ability to smuggle into Gaza more sophisticated weaponry, Israel believes it can neutralise that threat using interception systems.
Far from being a humanitarian measure, Iron Dome has simply served to ensure that Gaza will continue to suffer a far larger burden of deaths and injuries in confrontations with Israel and that such confrontations will continue to occur regularly.
Here are the four main culprits. They should be held responsible for the deaths of Palestinians and Israelis in the days and, if Israel expands its operation, weeks ahead.
Jonathan Cook won the 2011 Martha Gellhorn Special Prize for Journalism. His latest books are Israel and the Clash of Civilisations: Iraq, Iran and the Plan to Remake the Middle East (Pluto Press) and Disappearing Palestine: Israel's Experiments in Human Despair (Zed Books); and his new website is www.Jonathan-Cook.net.
Israeli prime minister says Israel is prepared for 'significant' widening of Gaza operation as bombardment enters fifth day
Harriet Sherwood, Peter Beaumont and agencies
Israeli troops gather on the Gaza border as the government authorised the call-up of 75,000 reserve troops Link to this video
The Israeli prime minister, Binyamin Netanyahu, has said it is prepared for a "significant" widening of its Gaza offensive as the bombardment entered its fifth day.
The Palestinian death toll since the conflict began on Wednesday topped 50 after a night of sustained bombing that killed seven civilians, including five children, according to a Gaza health official. Two children died and 12 people were injured when two houses were hit in northern Gaza.
Shells fired from Israeli gunboats off the coast pummelled Gaza for an hour in the middle of the night, causing massive explosions, and six people were injured when two Israeli war planes hit a media building in Gaza City.
Netanyahu told the Israeli cabinet in remarks broadcast on Sunday: "We are exacting a heavy price from Hamas and the terrorist organisations and the Israel Defence Forces are prepared for a significant expansion of the operation."
There appeared to be a lull in rocket fire out of Gaza overnight, but air raid sirens sounded in Tel Aviv and Ashdod on Sunday morning. Israel's Channel 2 reported that rocket fire aimed at Tel Aviv was intercepted by an Iron Dome defence battery.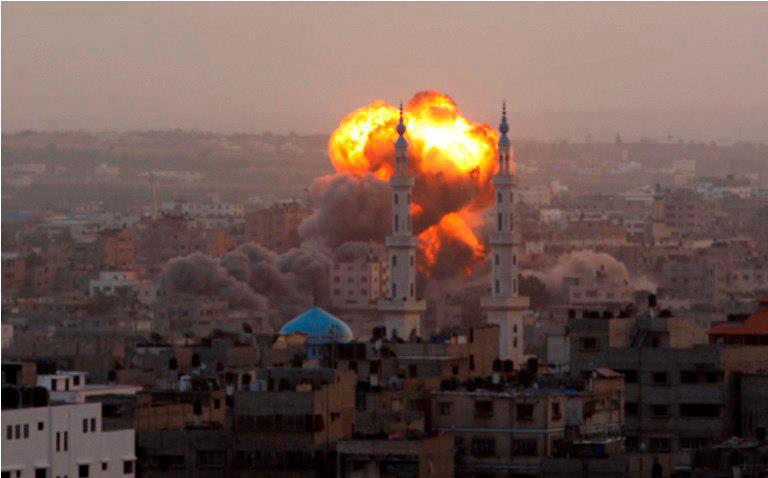 Three Israeli civilians have been killed and more than 50 wounded since Wednesday.
Gaza is braced for a ground invasion by Israeli forces following intensified bombing that included the flattening of the headquarters of the Hamas leader, Ismail Haniyeh. A small mountain of rubble, twisted metal and broken glass was all that remained of Haniyeh's headquarters. Palestinian flags fluttered on poles poking out from the debris.
Israel has opened the Kerem Shalom crossing to allow medical and humanitarian supplies into Gaza.
As the Israeli military began the emergency call-up of up to 75,000 reservists, leaders from Turkey, Egypt and Qatar met in Cairo to discuss ways of ending the escalating violence. Israel has said it is not prepared to enter into a truce without guarantees the rocket fire won't resume.
The US urged diplomacy and "de-escalation" but said Israel had the right to self-defence. It wanted the "same thing as the Israelis want" in ending rocket attacks, the White House said in a statement.
Israel's hardline foreign minister, Avigdor Lieberman, warned of a "crushing response" still to come to prevent missile fire by Hamas and other militant groups but denied Israel had launched an all-out war.
"The only way we can achieve peace and security is to create real deterrence via a crushing response that will make sure they don't try to test us again," he said. "This isn't an all-out war but an operation with defined goals." If a ground invasion were authorised Israel would have to "see it through," he said. "This wasn't done during Operation Cast Lead [the 22-day war four years ago], which is why we failed to achieve our goal."
On a visit to Gaza on Saturday, the Tunisian foreign minister, Rafik Abdesslem, denounced the Israeli attacks as unacceptable and against international law.
"Israel should understand that many things have changed and that lots of water has run in the Arab river," he said. "It should realise it no longer has a free hand. It does not have total immunity and is not above international law … What Israel is doing is not legitimate and is not acceptable at all."
Regional leaders, along with Hamas's Khaled Mashaal and Ramadan Shallah, the Islamic Jihad secretary general, are meeting in Cairo to discuss ways of containing the crisis. Others at the gathering included the Egyptian president, Mohamed Morsi, Turkey's prime minister, Recep Tayyip Erdogan, and the Qatari emir.
"There are some indications that there is a possibility of a ceasefire soon, but we do not yet have firm guarantees," Morsi said.
Arab League diplomats briefed on Saturday evening that its statement would be calling for an immediate ceasefire. However, Hamas officials in Gaza said any truce would be dependent on Israel agreeing to lift its long-term blockade of the territory and agree to end its policy of assassinations of Hamas leaders, conditions that Israel is unlikely to accept.
Egypt brokered an informal truce in October, which has since collapsed. An Arab diplomatic source, who declined to be named, told Reuters the Arab League draft to be discussed by the ministers expresses the Cairo-based league's support for Egypt's efforts to achieve a "long-term truce" between Israel and Palestinian factions.
The draft also calls for the UN security council to take the necessary steps to halt the violence and "protect the Palestinian people".
Six injured as strikes target buildings housing media organisations including Sky News, al-Arabiya and al-Quds TV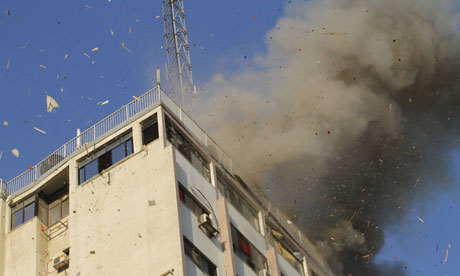 Smoke rises after an Israeli air strike on an office of Hamas television channel al-Aqsa in Gaza City Photograph: Mohammed Abed/AFP/Getty Images
Israeli military planes struck two media headquarters in Gaza City in the early hours of Sunday morning, injuring six people including a cameraman, who lost a leg.
A number of media organisations are based in the al-Shawa building, including al-Quds television, which is associated with Islamic Jihad. Khader al-Zahhar, a cameraman with al-Quds TV, had his leg amputated as a result of injuries sustained in the attack.
A second air strike struck another media complex in the city, the al-Shuruq building. It houses Sky News, the al-Arabiya news network, Dubai TV and an office of al-Aqsa TV, which is affiliated with Hamas.
Sky News reporter Sam Kiley was sleeping in the offices when the missile struck shortly before 7am. "The missile hit the floor above us. There was a big flash of light and the sound of breaking glass."
In a statement, the Israeli Defence Forces said: "A communications antenna used by Hamas to carry out terror activity against the state ofIsrael, was … targeted."
"The second site was targeted at approximately 6.50am and was also part of Hamas's operational communications that was deliberately located on the roof of the building, in which several international media bureaux reside.
"The IDF calls on international journalists and correspondents who operate in the Gaza Strip carrying out their duties, to stay clear of Hamas's bases and facilities – which serve them in their activity against the citizens of Israel."
The Palestinian death toll since the war began last Wednesday topped 50 after a night of sustained bombing. Seven civilians including five NEW children were killed in overnight bombing, a Gaza health official said. Two of the children were killed and 12 people injured when two houses were struck in northern Gaza.
Shells fired from Israeli gunboats positioned off the coast pummelled Gaza for an hour in the middle of the night, causing massive explosions.
There appeared to be a lull in rocket fire out of Gaza overnight, but air raid sirens sounded in Tel Aviv and Ashdod on Sunday morning. Israel's Channel 2 reported that rocket fire aimed at Tel Aviv was intercepted by an Iron Dome defence battery.
Israel opened the Kerem Shalom crossing to allow medical and humanitarian supplies into Gaza.
Three children killed and media centres hit as Israel keeps up bombardment for fifth straight day.
Last Modified: 18 Nov 2012
Israel is continuing its assault on the Gaza Strip for a fifth straight day, bombarding the Palestinian enclave from both the air and sea.
Medical sources said three children were killed on Sunday. One of them was an 18-month-old killed in a air raid east of Bureij refugee camp in central Gaza.
Meanwhile, fighters in Gaza fired rockets into Israel. Two of them, aimed at the commercial hub of Tel Aviv, were shot down by Israel's anti-missile system, police said.
An air raid before dawn in Gaza City targeted a building housing the offices of local Arab media, wounding several journalists from al-Quds television, a station Israel sees as a mouthpiece of the Hamas movement which rules the Gaza Strip.
"At least six journalists were wounded, with minor and moderate injuries, when Israeli warplanes hit the al-Quds TV office in the Showa and Housari building in the Rimal neighbourhood of Gaza City," health ministry spokesman Ashraf al-Qudra told the AFP news agency, adding that one journalist lost his leg.
Witnesses reported extensive damage to the building, and said journalists had evacuated after an initial strike, which was followed by at least two more on the site.
A second media centre was targeted later on Sunday morning. Sky News, al-Arabiya, and the official Hamas-run channel al-Aqsa TV have offices in the building. Qudra said two journalists were injured in the attack.
The Israeli military said it had targeted "two Hamas operational communication sites" and had only targeted communication devices located on the roof to "minimise the damage to non-involved persons".
Huge plumes of smoke were billowing in the sky after a security building in Gaza City was hit.
Two other attacks on houses in the Jebalya refugee camp killed one child and wounded 12 other people, medical officials said.
Rockets fired
Gaza has been under attack since Wednesday, when Israel launched a military offensive with the declared goal of deterring Gaza fighters from launching rockets into its territory.
Fifty-one Palestinians, about half of them civilians, including 14 children, have been killed in Israel's raids, Palestinian officials said. More than 500 rockets fired from Gaza have hit Israel, killing three people and injuring dozens.
Al Jazeera's Nadim Baba, reporting from Gaza City, said some people who live near the northern and eastern borders with Israel had been leaving their homes to seek shelter with relatives elsewhere. Meanwhile in Gaza City, streets were relatively quiet.
Al Jazeera's correspondents report from
Gaza City and Sderot, Israel
"People still do think that the Israeli military might actually launch a ground incursion. They are of course also worried that they might be near targets of the Israeli military, and they might also be near to a place from where rockets are being launched."
Our correspondent said he had witnessed a rocket being launched from a waste ground in the city. "Then I saw civilians running away from that area," he said.
Rocket fire from Gaza into Israel subsided during the night but resumed in the morning with at least 50 rockets fired, the Israeli army said.
At least 17 of them were intercepted by the so-called Iron Dome, Israel's a missile-defence system meant to shoot down rockets and artillery shells fired at populated areas. Two people were lightly injured by a rocket hitting a house in the coastal city of Ashkelon, the Magen David Adom emergency services said.
Israel said it would keep schools in its south shut on Sunday as a precaution to avoid casualties from rocket strikes.
Hamas defiant
Prime Minister Binyamin Netanyahu said Israel was ready to "significantly expand" its operation against fighters in Gaza.
The military said Israeli aircraft had targeted dozens of underground rocket launchers overnight, "causing severe damage to the rocket launching capabilities of Hamas and other terror organisations".
It also confirmed that its navy has shelled Gaza, hitting targets on the northern Gaza shore line.
Hamas remained defiant, with its military spokesman Abu Ubaida insisting that despite Israel's blows the movement "is still strong enough to destroy the enemy".
"This round of confrontation will not be the last against the Zionist enemy and it is only the beginning," he told a televised news conference.
Urgent communication from Gaza – Names of the Palestinians murdered by Israel until now!
Because we are NOT just numbers, keep following this post of the names and ages of murdered people who fell victim during the past days of Israeli attacks on Gaza since Wednesday. The number rises to 57 and still rising :( I hope that this battle will cost us no more souls. However, nothing will depress us, no matter how much Israel escalates its inhumanity and crimes. We'll remain ready to pay any price for attaining of freedom and dignity. RIP!
1- Ahmad Al-Ja'bary, 52 years old.
2-Mohammed Al-hams, 28 years old.
3- Rinan Arafat, 7 years old.
4- Omar Al-Mashharawi, 11 moonths old.
5-Essam Abu-Alma'za, 20 years old.
6-Mohammed Al-qaseer, 20 years old.
7- Heba Al-Mashharawi, six-month pregnant, 19 years old.
8- Mahmoud Abu Sawawin, 65 years old.
9- Habis Hassan Mismih, 29 years old.
10- Wael Haidar Al-Ghalban, 31 years old.
11- Hehsam Mohammed Al-Ghalban, 31 years old.
12- Rani Hammad, 29 years old.
13- Khaled Abi Nasser, 27 year old.
14- Marwan Abu Al-Qumsan, 52 years old.
15- Walid Al-Abalda, 2 years old.
16- Hanin Tafesh, 10 months old.
17- Oday Jammal Nasser, 16 years old.
18- Fares Al-Basyouni, 11 years old.
19- Mohammed Sa'd Allah, 4 years old.
20- Ayman Abu Warda, 22 years old.
21- Tahrir Suliman, 20 years old.
22- Ismael Qandil, 24 years old.
23- younis Kamal Tafesh, 55 years old.
24- Mohammed Talal Suliman, 28 years old.
25- Amjad Mohammed Abu-Jalal, 32 years old.
26- Ziyad Farhan Abu-Jalal, 23 years old.
27- Ayman Mohammed Abu Jalal, 44 years old.
28- Hassan Salem Al-Heemla', 27 years old.
29- Khaled Khalil Al-Shaer, 24 years old.
30- Ayman Rafeeq sleem, 26 years old.
31- Ahmad Abu Musamih, 32 years old.
At 8:20 am, as a result to an Israeli inhumane attack on Deel Al-Balah, central Gaza, three people were killed. The list of murdered victims goes longer>>>
32- Osama Abdejjawad
33- Ashraf Darwish
34- Ali Al-Mana'ma
At 8:45 am_ 9:00 am, warplanes attacked several places including Rafah, Khan-Younis, and Tal Al-Sultan, southern Gaza, leaving three killed>>
35`- Mukhlis Edwan
36- Mohammed Al-Loulhy, 24 years old.
37- Ahmad Al-Atrush
In a series of attacks on several places on central Gaza at noon, two more people fell victim:
38- Abderrahman Al-Masri
39- Awad Al-Nahhal
40- Ali Hassan Iseed, 25 years old, killed in an attack on his motorbike in Deer Al-Balah, central Gaza, at 8:10 pm, Novebmer 17.
IOF attack another motorbike in Deer Al-Balah at 8:20 pm, leaving two more killed:
41- Mohammed Sabry Al'weedat, 25 years old.
42- Osama Yousif Al-Qadi, 26 years old.
In an attack on central Gaza, to the west of Al-Masdar area, at 9:10 pm, two more people people killed:
43- Ahmad Ben Saeed, 42 years old.
44- Hani Bre'm, 31 years old.
At 9:40 pm, Israel attacked Qdeih family's house in west Khan-Younis, Southern Gaza and a woman got killed.
45- Samaher Qdeih, 28 years old.
46- Tamer Al-Hamry, 26 years old, died after being seriously injured in an attack on Deer Al-Balah.
On November 18, the fifth day of the Israeli ongoing aggression on Gaza:
Israeli warplanes shelled the house of Abu-Alfoul family in northern Gaza, killing two children and injuring at 13 at least, mostly children and women.
47- Gumana Salamah Abu Sufyan, 1 year old.
48- Tamer Salamah Abu Sufyan, 3 years old.
An Israeli warplanes fired missiles at a house that belongs to the family of Abu Nuqira in Rafah killing one person:
49- Muhamed Abu Nuqira
An Israeli war plane fired a missile at a house in an agricultural land east of Bureij camp, in the Central Gaza Strip, killing one child and injuring 2 other children:
50- Eyad Abu Khusa, 18 months old.
Two people were killed, one of them a child, when an Israeli missile hit a beachfront refugee camp in Gaza City:
51- Tasneem Zuheir Al-Nahhal, 13 years old.
52- Ahmad Essam Al-Nahhal, 25 years old.
Medics also reported finding the body of woman under the rubble of a house in eastern Gaza City who had been killed in a strike earlier in the morning.
53- Nawal Abdelaal, 52 years old.
At 3:10 pm, November 18, Israel rocked a house belongs to Al-Dalou family in Sheikh-Redwan area, west Gaza, killing 3 people, three sisters, and a man.
54- Sulifa Al-Dalou, 50 years old.
55- Samah Al-Dalou, 25 years old.
56- Tahani Al-Dalou, 46 years old.
57- Abdallah Al-Mzannar
Keep following this post. I'm going to keep updating it on everything that is happening as much as I can and as long as I'm breathing!
EDITOR: listen to an ace analysis of Israel's aggression on the The Real News by Phyllis Bennis, who is a Fellow and the Director of the New Internationalism Project at the Institute for Policy Studies in Washington DC. She is the author of Before and After: US Foreign Policy and the September 11 Crisis , Ending the US War in Afghanistan: A Primer and Understanding the US-Iran Crisis: A Primer:
18 November 2012
The Zaytoun neighborhood of Gaza City has been especially hard-hit by Israel's relentless bombing.
More than 15 members of the Dalloul family now sleep in one room of their home in theal-Zaytoun neighborhood, a densely-populated area in the southeast of Gaza City.
"All the children and elder members of our family squeeze onto these mattresses when night falls," Naeema Dalloul, mother of seven, told The Electronic Intifada on Saturday afternoon as deafening bomb explosions could be heard in the background.
Dalloul and her children normally live in the Tal al-Hawa neighborhood to the west, but when Israel began its intense bombardment of the Gaza Strip on Wednesday, she moved to her parents' home in al-Zaytoun.
"When the air strikes began on Wednesday I was on the phone with my husband, who is now traveling. I was concerned about my seven children, so I moved here to stay with them," Dalloul said. "But as you see the attacks are widespread and no one seems safe."
In fact, the al-Zaytoun neighborhood has been one of the most heavily bombed areas.
Medical sources and human rights organizations said the death toll in the current Israeli assault had reached approximately 40 by Saturday afternoon, with at least seven children among the dead. Hundreds more are reported injured.
On Saturday, at least one person was killed and seven injured in attacks on al-Zaytoun.
Terrifying nights
The constant sound of bombs is taking its toll on the children.
"My little four-year old daughter, Tala, just hides behind me whenever there is a loud Israeli airstrike heard in the background," Dalloul said. "This time is rather scary and no one can predict how things will turn out. But we are trying to cope as best as we can."
The children are so scared at night, even the older ones, that when they want to get up to use the bathroom at night they insist that their mother goes with them.
Dalloul's own mother, known as Um Fathi, who is in her late 70s and hails originally from the city of Bir al-Saba (Beersheva) in historic Palestine, sat in a chair watching TV along with other family members.
"Israeli attacks on Bir al-Saba forced my family to flee," Um Fathi said, recalling her family's 1948 flight from their hometown in what is now called Israel. "But now I encourage all my children and grandchildren not to succumb and remain steadfast and not to flee. We should not leave. We will remain steadfast."
"Whenever I hear an airstrike I put my hands on my ears and feel so scared," said nine-year-old Wisam Dalloul, who appeared frightened as the sound of bombs continued. "I don't know what's going on and as I see on TV, children like myself are being killed or injured."
Wisam's father Yehya, a taxi driver, is the breadwinner for the entire family, including his sister Naeema and her children, and his aging mother.
"As you see, I am stuck at home and unable to work as the streets are almost empty and the situation is highly risky," Yehya said. "Once, I wanted to go out, but my five children and wife insisted I should not go out," the young father stated.
Worry about protracted attack
Yehya is doing his best to keep the family supplied with essentials.
"For the moment, I have enough supplies like food, cooking gas and other things," he said. "But the question here is what if this situation continues? As a taxi driver, once I go to work, I can provide for my family. But if I stay idle at home, I don't know how I will manage."
Upstairs lives Muhammad Dalloul, a 25-year-old graduate student, one of many members of the extended Dalloul family who live in close proximity to each other in the neighborhood.
"Every 15 minutes we hear a loud explosion just very close, as if the aircrafts have a timer that is set to automatically fire rockets on Gaza."
Muhammad said that he stays up all night following the news. "That's all I can do," he said. "Of course, I do not go out because of the risk unless it's an emergency."
No shelters
Muhammad's mother, Um Muhammad, who is in her late 40s, said that she and her two sons also sleep in one room of their small home that they believe to be the most safe.
"The current Israeli attacks are not as big as those of the 2009 Israeli war," she said, "yet their strikes continue unabated and we seem to be waiting for our fate. We are still strong and able to cope, God willing."
Um Muhammad pointed out that there are no air raid shelters in Gaza and fears what could happen. "We are pretty sure that our enemy is careless with our lives," she said.
Rami Almeghari is a journalist and university lecturer based in the Gaza Strip.
Posted on: November 18, 2012
18.11.2012 – Besieged Gaza, Occupied Palestine
Four years after the Israeli Occupation Forces perpetrated a massacre upon the population of Gaza, Apartheid Israel commits another crime. The latest round of Israeli war crimes has resulted in a new massacre ; at the time of writing more than 40 innocent civilians, including 15 children, have been murdered brutally as they slept in their own houses.  More than 400 have been critically injured.
We request that the citizens of the world oppose this deadly crime. We no longer rely on governments. The failure of the United Nations and its numerous organizations to condemn such crimes proves their complicity. Only civil society is able to mobilize to demand the application of international law and put an end to Israel's impunity. The intervention of civil society was effective in the late 1980s against the apartheid regime of South Africa. Nelson Mandela and Archbishop Desmond Tutu have not only described Israel's oppressive and violent control of Palestinians as Apartheid, they have also joined this call for the world's civil society to intervene again.
We, therefore, ask people of conscience and civil society organizations to put pressure on their governments until Israel is forced to abide by international law and international humanitarian
law. Without the intervention of the international community which was effective against apartheid in South Africa, Israel will continue its war crimes and crimes against humanity, as articulated by the Goldstone report.
We call on civil society organizations worldwide to intensify the anti-Israel sanctions campaign to compel Israel to end to its aggression.
The international conspiracy of silence towards the genocidal war taking place against the 1.5 million civilians in Gaza indicates complicity in these  war crimes.
We call upon the international community to demand that the rouge State of  Israel end its siege and compensate for the destruction of life and infrastructure that it has visited upon the Palestinian people. We alse call upon all Palestine solidarity groups and all international civil society organisations to demand:
– An end to occupation, Apartheid and other war crimes committed by Israel
– An end to the siege that has been imposed on the Palestinians of the Gaza Strip since 2006.
– The protection of civilian lives and property, as stipulated in International Humanitarian Law and International Human Rights Law such as The Fourth Geneva Convention.
– That Palestinian refugees in the Gaza Strip  be provided with material support to cope with the immense hardship that they are experiencing..
– Immediate reparations and compensation for all destruction carried out by the Israeli Occupation Forces in the Gaza Strip.
– Holding  Israeli  generals  and leaders accountable for  war crimes and crimes against humanity committed against the civilians of Gaza.
Signatory Organizations:
Palestinian General Federation of Trade Unions
The One Democratic State Group
University Teachers' Association
Palestinian Students' Campaign for the Academic Boycott of Israel
Submitted by Ali Abunimah on Sun, 11/18/2012 – 18:10
Israelis come to support and gives presents to soldiers in the city of Ashdod on 18 November 2012, the fifth continuous day of Israel's bombardment of the Gaza Strip.
The Israeli army should learn from Syria how to "slaughter and crush the enemy" said Rabbi Yaakov Yosef, the son of Israel's former Chief Rabbi and spiritual leader of the Shas party, Rabbi Ovadia Yosef.
This report, from the Israeli financial news website Globes, was translated by Dena Shunra:
Rabbi Yaakov Yosef: "The IDF must learn from the Syrians how to slaughter the enemy"

"The army has got to learn from the Syrians how to slaughter and crush the enemy" – that is how Rabbi Yaakov Yosef, son of Rabbi Ovadia Yosef, "blessed" the IDF [sic] soldiers who may soon find themselves within the Gaza Strip, within the framework of a ground operation which may happen in practice.

According to the report on the Jewish Voice [hakol hayehudi] website, Rabbi Yosef gave a sermon today at the Cave of the Patriarchs in Hebron, and among other statements blessed the IDF soldiers by saying: "we warmly bless the soldiers and pray that they leave in peace and return in peace." Immediately thereafter he said that the IDF should learn from the Syrians "how to slaughter and how to crush the enemy."

According to the report, Rabbi Yosef said similar things in a sermon he gave in Jerusalem last weekend. Yosef was interrogated by the police in the past for alleged incitement, due to his statement of consent and approval for the Torat Hamelech book, which deals in the halacahic laws of war under the Torah.
The Syrian army has been universally condemned for indiscriminate shelling and bombing of Syrian towns and cities resulting in tens of thousands of deaths and injuries and widespread destruction amid the ongoing civil war in that country.
Frequent incitement
Incitement by Israeli religious leaders is not new. Last June, Rabbi Shmuel Eliyahu was appointed to an advisory committee for Magen David Adom, Israel's ICRC affiliate.
Eliyahu, the Chief Rabbi of Safad, whose salary is paid by the Israeli government, has a long, well-documented history of extreme racism and has called for violence against Palestinians.
In 2007, for example, Eliyahu called on Israel to "kill a million" Palestinians to stop rocket fire from Gaza. Eliyahu's late father, Rabbi Mordechai Eliyahu, had previously ruled "that there was absolutely no moral prohibition against the indiscriminate killing of civilians."
Yaakov's own father, Ovadia Yosef, has also been the inspiration for his son. In 2001, the elder Yosef, known for calling the Palestinians "snakes," effectively called for their extermination.
"It is forbidden to be merciful to them. You must send missiles to them and annihilate them. They are evil and damnable," the revered cleric said.
Israeli ministers have also used violent rhetoric as the escalating Israeli assault on Gaza has claimed dozens of civilian lives.
Israel's "minister of home front defense" Avi Dichter called for Israel to "reformat" Gaza– wipe it clean – like a computer hard drive, except using bombs.
Transport minister Israel Katz called for Israel to bomb Gaza so hard that the population would flee into Egypt, and for Israel to cut off water and electricity supplies.
And Eli Yishai, the interior minister and the head of the Shas party said the goal of the current assault "is to send Gaza back to the Middle Ages."
EDITOR: Read below on how this terrible crime is reported in Israel: Israel is 'starting to get into trouble… and this is the most liberal paper in the country!
While Hamas leaders hide in underground tunnels, the civilian population is exposed to IDF strikes; the horrifying pictures from al Dalou family liable to be Palestinian version of Lebanon village of Kafr Qana.
By Avi Issacharoff     | Nov.18, 2012
The horrifying pictures that emerged Sunday evening from the home of the al Dalou family in central Gaza are liable to be the Palestinian version of the Lebanese village of Kafr Qana. Just as the pictures showing the results of the Israeli bombing of Kafr Qana in July 2006 changed the face of the Second Lebanon War and turned world public opinion against the Israeli operation, in the same way the bombardment of the house in Gaza and the killing of all 12 of its residents is liable to elicit Arab, European and, above all, American pressure on Israel to stop the aerial attacks immediately.
Among those killed in the house were five women, four children and three men. Al Jazeera television repeatedly broadcast the pictures of the bodies of the four children, who were 2 to 5 years old, lying next to each other in the hospital in Gaza on Sunday.
The live broadcasts from the house focused on documenting the attempts to rescue survivors from the ruins, but the cameras recorded only the discovery of another body there. Those pictures were broadcast all over the Arab world, on the eve of the arrival of an Arab League foreign ministers' delegation, which was supposed to bring with it a cease-fire agreement. We can assume that just as in 2006, when Hezbollah retracted its intention of agreeing to a cease-fire in the wake of the Kfar Qana incident, this event too will only cause Hamas to toughen its positions toward Israel, in light of very sympathetic Palestinian and Arab public opinion.
One indication that the campaign in Gaza is starting to get into trouble, as far as Israel is concerned, is the constant increase in the number of casualties among Palestinian civilians. Even before the al Dalou family, reports about casualties among children, women and the elderly have been increasing over the past two days, while harm caused to militants from Hamas or other organizations has been relatively limited.
There are several reasons for this: Hamas, of course, operates from within a civilian population and conceals its arsenals in built-up areas. The same is true of missile launchers, rockets and more. In addition, most Hamas militants make sure not to remain above ground most of the day. They stay in the network of tunnels built by Hamas beneath the Gaza Strip in recent years and, in effect, are at very low risk compared to the vast majority of the Gaza population. And the process of launching the rockets is extremely quick and is sometimes done by remote control, so that the ability to strike at those militants is very limited.
And still, no matter what the reason, the harsh pictures from Gaza of small children who are wounded or killed arouse very unpleasant feelings. On Sunday afternoon, for example, it was reported that aside from the al Dalou family, 14 Palestinians had been killed in Gaza so far that day. Among the dead were five children and three women, including Tamer and Jumana Abu Asaifan, two babies who were killed in a bombing in Jabalya; 9-year-old Tasneem Abu Nahhal; a 52-year-old woman, Nawal Abed al Ali; 18-month-old Eyad Abu Khousa; and a woman named Saadiyya al-Theib.
One possible explanation for the growing number of strikes against the civilian population is the decline in the number of quality targets available to Israeli intelligence and the Israel Air Force. In the afternoon, there was a report of the assassination of the head of the Hamas rocket program, Yahye Rabiya – of whom nobody in the Gaza Strip had ever heard and whose name for some reason was not even mentioned on the lists of those killed in Gaza.
But the attacks on empty facilities belonging to Hamas — or what used to be called "bombing real estate" — can also attest to a certain frustration in the Israel Defense Forces in light of the continued firing of rockets even more intensively, despite the innumerable aerial strikes and bombings in Gaza.
Another problem with which Israel has to contend is the fact that it is doubtful whether the large number of casualties among Gaza's civilian population actually leads Hamas leaders to reconsider the firing of rockets. Perhaps even the opposite is true. Apparently the many pictures of women and children killed in the present campaign (a total of 67 dead so far, including the organizations' militants) help to create especially supportive Palestinian and Arab public opinion for Hamas.
On the Internet and on the social networks, there is a clear call to take revenge against the Israelis and to bomb Tel Aviv, as though firing missiles at Gush Dan, the Tel Aviv metropolitan area, will solve the problems of the Strip's residents. Hamas at this stage seems to be intoxicated by the support it is receiving from the public and especially from the Palestinian media, which cast no doubt and ask no questions, even for a moment.
Wrapped in the warm embrace it is receiving from Arab countries, Hamas seems to be in no hurry at all to end the fighting and is continuing to present very inflexible positions in the negotiations being conducted via Egypt regarding a temporary cease-fire.
At this stage it looks as though the organization sees Israel's threats of a ground operation as empty posturing. A similar attitude was heard from the Hamas leadership a few days after the start of Operation Cast Lead in December 2008. Then, too, Hamas did not believe that Israel would enter the Gaza Strip on the eve of elections, and when the ground operation began, the Hamas members fled from the fighting and left the population to absorb the fire.
It appears that the organization's leadership has not learned the lessons of that campaign. Thus, tracking the Hamas media and the arrogant words of the organization's leaders sometimes gives you a feeling that Hamas is about to conquer Israel at almost any given moment. The most recent proclamations of the organization's military arm, Iz al-Din al-Qassam, included claims of firing a missile that landed north of Herzliya, sinking an Israel Navy ship, downing an IAF F-16 and more.
The problem is that while Hamas members are claiming credit for nonexistent achievements and are continuing the "fighting" while they are hidden in fortified tunnels, the residents of the Gaza Strip will continue to be the ones to pay the price. And the bombing Sunday in the center of Gaza is just another painful example of that phenomenon.
EDITOR: Listen to the voice of reason
What our friend Gerald Kaufmann said in Jan 2009 still is true now, and still resounds: