September 7, 2012
EDITOR: New developments…
You may have thought there is hardly any new developments in Israel/Palestine, as the old conflict struggles on without much change. You will be wrong – there are always new developments, and as a rule, they are bad news. Having burnt and desecrated many mosques, in Israel and in the OPT, the fascists and racists are now branching out to burn churches. Why stop at mosques? After all, the non-Jew (and I am not even mentioning the Black migrants), the Goy, is not kosher, and is considered a pagan and worse, so burning a mosque, monastery or a church is just a Mitzvah (a positive commandment) for some deluded Jews in Israel. This is the logical conclusion of the racist hate policies which have been refined by the Israeli government, and should surprise no one. With city-centre pogroms, and the burning of mosques and churches, Israelis are doing all they can to clarify to the watching world what they are really about – getting rid of the other. A crowning glory of two thousand years of anti-Semitism, indeed. Israel seems to be the wet dream of an anti-Semite.
In the wake of the 'price tag' vandalism at the Latrun monastery, Father Pierbattista Pizzaballa cautions Israelis over how Christians are treated in Israel.
Father Pierbattista Pizzaballa was a signatory on this week's church condemnation of the vandalism at the Latrun monastery. Photo by Emil Salman
A catholic monk standing in a doorway of the Latrun Trappist Monastery where vandals spray-painted anti-Christian and pro-settler graffiti, Sept. 4, 2012.Photo by AP
The "price tag" vandalism this week of the monastery at Latrun, in which the culprits sprayed the building's facade with the words "Jesus is a monkey" and set the front door alight, prompted a fierce statement of condemnation signed by Catholic church leaders here. One of the statement's senior signatories, who holds the title of custos (Latin for guardian ) of holy sites on behalf of the Vatican, is a Franciscan priest of Italian origin named Father Pierbattista Pizzaballa. Prior to the church's statement, which questioned what was going on in Israeli society that would prompt such an act, Prime Minister Benjamin Netanyahu denounced the vandalism, calling it "a criminal act" and that "those responsible for it must be severely punished."
In a rare interview to the Israeli media just a month before he steps down from his current post, Pizzaballa cautioned Israelis over how Christians are treated here. "When you say 'Christianity' to the Israelis," he said, "they immediately think of the Holocaust and the [Spanish] Inquisition. People don't know that we are here and that we have roots [here]," adding that this attitude is reflected throughout Israeli society.
In a reference to the long-standing, continual incidents of Orthodox Jewish extremists in Jerusalem spitting at Christian clergy, Pizzaballa said: "When I came to the country, I was told that I should know that if I walk around with a frock in the city [of Jerusalem], people would spit on me, and I shouldn't be offended, it's normal."
No matter how high his position, any priest who makes his way around the city will sooner or later be spat upon and cursed by a yeshiva student, he added.
Pizzaballa, who has been living in Israel for 22 years, is the head of the Franciscan order in the Middle East. As custos, he is one of the senior figures in the Catholic Church and has custody of most of the Christian holy sites in the country, including Jerusalem's Church of the Holy Sepulcher, which Christians regard as the site of Jesus' crucifixion and resurrection, and Bethelem's Church of the Nativity. After more than two decades here, he said he knows the areas of Jerusalem where he is at risk of being spat upon, including the area of Jaffa Gate and the Armenian Quarter.
This week's vandalism at the Latrun monastery is the latest in a recent streak of attacks on Christian institutions. In February, following incidents in Jerusalem, Pizzaballa wrote to President Shimon Peres that in recent years, he and his colleagues had learned to ignore provocations, but that now they were escalating to the point that they had become intolerable.
Following his letter to Peres, however, anti-Christian animosity even surfaced in the Knesset, after Christian bibles were sent to parliament members and National Union MK Michael Ben Ari ripped a copy of the New Testament in front of the camera. "It was shocking," said Pizzaballa. "If you as a Jew want people to respect you, you need to respect others. There are billions of Christians for whom this book is holy."
He also took exception to what he said was the weak response by the political system and the public at large to Ben Ari's act, saying it was limited to statements that Ben Ari didn't need to do what he did. "It's a lack of sensitivity," said the cleric. "Such a serious thing occurs and no one does anything. In practice, it negates our existence here."
The power of the custos to influence the political system here is limited, however. "All of the heads of the [Christian] denominations approached the Knesset speaker [Reuven Rivlin] in protest. Our communities are asking why we don't do something, but what can we do other than write a letter?" And a week before the vandalism at the Latrun monastery, after the Franciscans established a residence on Jerusalem's Mount of Olives, it was attacked by a large group of young Muslims.
Pizzaballa doesn't expect the Christian presence in Jerusalem to disappear, however. "I am not that pessimistic. We are a minority within a minority and we always remain a small minority, but I don't think we will disappear completely, as happened in North Africa or Turkey, because ultimately this is the Holy Land. There are holy places. There's a presence. The Christian establishment, for all of its weakness, will remain. The question is the type of Christian population and its nature."
Pizzaballa has required that his monks who come to live here learn either Hebrew or Arabic. "Most Israelis don't know a thing about the Christian presence in the country. Both we and the Israeli public are to blame for this. We need to talk more," he said.
Pizzaballa is preoccupied currently with the situation in Syria and visited the country many times over the years, most recently about six months ago, but since then the Syrians have barred entry by him and many other foreigners. He said there is great uncertainty over the fate of Christians there although they have not been targeted as Christians by the violence.
The incident, suspected to be a 'price tag' attack, follows the recent evacuation of Migron, a settlement in the West Bank; among graffiti found: 'Jesus is a monkey.'
By 
Oz Rosenberg
| Sep.04, 2012 | 8:47 AM | 
 13
A priest walks between graffiti reading in Hebrew, "Jesus is a monkey" (L), which was sprayed on the wall of the Christian monastery near Jerusalem, September 4, 2012. Photo by AFP
The door of a Christian monastery in Latrun, near Jerusalem, was set on fire on Tuesday morning, and anti-Christian slogans were found spray-painted on the monastery's walls.
The arson and graffiti are suspected to be a "price tag" attack, following the recent evacuation of Migron, a settlement outpost in the West Bank.
Monks residing at the monastery noticed the burning door on Tuesday morning, and called police after extinguishing the flames. Graffiti sprayed on the monastery walls included the words "Migron," and "Jesus is a monkey."
One of the monks that resides at the monastery claimed that the acts of vandalism and arson are the first such acts of their kind in the monastery's 122 year history.
The Jerusalem Police's central unit has opened an investigation into the incident.
Baruch Marzel, a right-wing activist, connected the attack to the evacuation of Migron. "We said that evacuating Migron could fan the flames. There's an entire community that feels very bitter," said Marzel.
"Price tag" attacks are generally carried out by West Bank settlers and their supporters against Palestinian targets, often in retaliation for moves against settlements
Israel's Reform movement leader denounced the attack. "The attack on the monastery is additional proof that Israeli society is experiencing a wave of racism," he said.
Referring to his church's desire to regain rights to the traditional site of the Last Supper on Mount Zion, which it lost 500 years ago and which sits on top of the traditional tomb of King David, Pizzaballa said he is not seeking a change in the status quo. "But Jerusalem teaches us to you can't take any decision alone," he added. "You need the other [party]. That's the difficulty and the beauty of Jerusalem."
Intermediate ruling orders IDF to continue to provide food, water, and medical aid for a group of 21 Eritrean refugees, sets continuation hearing for next week.
By 
Haaretz
| Sep.06, 2012 | 2:11 PM | 
 1
An IDF soldier standing guard over a group of Eritrean migrants, near the Israel-Egypt border. Photo by Reuters
The Israeli High Court of Justice failed to reach a decision on Thursday, concerning the fate of the 21 Eritrean migrants currently stuck between fences on the Israel-Egypt border, postponing its decision for Sunday.
The High Court added that it understood from the state's representatives that Israel Defense Forces soldiers currently stationed by the border are supplying the Eritrean migrants with water, food, and medical attention, if it is necessary.
The court was convened to discuss the petition of an Israeli NGO, which Defense Minister Ehud Barak and Interior Minister Eli Yishai clarify why they have been denying the migrants' entry to Israel.
Earlier on Thursday, Israel Police barred members of an Israeli physicians' NGO from providing aid to the group of migrants, who have been trapped between the fences on the Israeli-Egyptian border for roughly a week.
On Wednesday, the envoy for the UN High Commissioner for Refugees in Israel William Tall called on Israel to grant immediate entry to a group of 21 Eritrean refugees, telling Haaretz that Israel could not "simply shut the door" and must allow them in and process their claims for asylum.
"The most worrying thing to me is the discussion of pushing them back into Egypt, which is highly irresponsible, because if they go back to Egypt there is a high risk these people will fall in the hands of human smugglers, and it is well known, it is all documented, that many of these people have been abused, there are cases of torture or rape, and if you send them back you are sending them to a situation with a very high degree of insecurity," Tall said.
Continuing, Tall said that Israel and the Israel Defense Forces have stated that they have stopped the policy of "hot returns," or, returing the migrants to Egypt as soon as they are apprehended. According to Tall, not allowing the refugees between the fences is "basically the same thing."
William Tall tells Haaretz: Israel has to 'step up to its responsibilities.'
By 
Talila Nesher
| Sep.06, 2012 | 2:11 AM | 
 6
Eritreans caught between Israel and Egypt's border fences, on Wednesday. Photo by Eliyahu Hershkovitz
The envoy for the UN High Commissioner for Refugees in Israel has called on Israel to grant immediate entry to a group of 21 Eritrean refugees that has been trapped between the fences on the Israeli-Egyptian border for a week. In an interview to Haaretz last night William Tall called on Israel to "step up to its responsibilities," saying that it could not "simply shut the door" and must allow them in and process their claims for asylum.
"The most worrying thing to me is the discussion of pushing them back into Egypt, which is highly irresponsible, because if they go back to Egypt there is a high risk these people will fall in the hands of human smugglers, and it is well known, it is all documented, that many of these people have been abused, there are cases of torture or rape, and if you send them back you are sending them to a situation with a very high degree of insecurity," Tall said.
Continuing, Tall said that Israel and the Israel Defense Forces have said that they have stopped the policy of "hot returns," and that not allowing the refugees between the fences is "basically the same thing."
"If you look at [former Supreme Court President Judge Dorit] Beinisch's decision … she says basically what we say; to return people to Egypt is not inconceivable, but it has to be done with certain guarantees, that their rights are respected, there's a framework, it's guaranteed that they won't be returned to smugglers," Tall said, noting that at present "there are no guarantees. The most disturbing thing to me is that many of these people may have spent months in smuggling camps in Egypt," where cases of rape and torture have been documented.
A group of activists that tried to bring food to the trapped Eritreans on Wednesday was turned back by soldiers who told them the area was declared a closed military zone. They left the food in hope the soldiers would deliver it to the group.
"We will not bring the Eritreans into Israeli territory, Interior Minister Eli Yishai declared on Wednesday.
"It is hardest for me, of anyone, to see these pictures, and return families to their homelands. It is hard for me to see these pictures, but I am the one who has to make the difficult decision, and if I have to choose between the good of the state, its civilians, and its security, [and the good of the families] I will choose that there be a fence, that they won't enter, and instead return to their country," Yishai continued.
In an interview with Army Radio Wednesday morning Yishai said: "Every day there are people stuck there. If there were no fence, and if we weren't steadfast, there would be a million people here. Don't ask what we would do with a million refugees here – excuse me, migrant workers."
The Israeli NGO We Are Refugees petitioned the High Court of Justice on Wednesday, demanding that Defense Minister Ehud Barak and Yishai explain why they have denied entry to the group, as well as food, water and medical care. The court is to discuss the petition this morning.
The petition states that Israel is violating international law as well as promises it has made with regard to the treatment of refugees.
The NGO said the petition was filed out of fear for the migrants' lives in their homeland.
The petition says Israel should decide the migrants' status after granting them entry. It also notes that human rights organizations and the UNHCR say the refugees are faced with life-threatening danger in Egypt and that they fear Egypt would deport them back to Eritrea without properly examining the danger to them there.
"The fact that for all this time the fate of these asylum seekers is under the effective control of the state of Israel requires the supplying of humanitarian aid, as us being the 'good Samaritan,'" the petition said. Were the Eritreans successful to cross the fence, the petition said, they would have been granted temporary protection by Israel's Immigration Authority because of the danger they are faced in their homeland.
Earlier on Wednesday, the NGO asked State Attorney Yehuda Weinstein to allow the trapped migrants to enter Israel and receive medical treatment, food and water.
The UN Refugee Agency said Tuesday that Israel violates the United Nations Convention Relating to the Status of Refugees when dealing with the migrants on the border.
A number of Holocaust survivors protested in front of Jerusalem's Yad Vashem against Yishai and called on the IDF to admit the African migrants into the country.
On Wednesday, MK Dov Khenin asked Barak and Prime Minister Benjamin Netanyahu to intervene immediately on behalf of the refugees, saying, "Do we want them to die at the fence?" Khenin said that the migrants were subjected to abuse while in Sinai and that one Eritrean woman had miscarried during her journey.
"A fence is not a magic solution," Khenin wrote in a message to Barak and Netanyahu, "It does not annul the obligation to examine the status of those knocking on it."
Comments come in the wake of a meeting between Barak and Netanyahu with U.S. Secretary of Defense Leon Panetta and National Security Advisor Tom Donilon over a possible military confrontation with Iran.
Ehud Barak. Photo by Tomer Appelbaum
Defense Minister Ehud Barak hinted Thursday that there may be no need for an Israeli strike on Iran, due to the unprecedented concentration of U.S. forces in the Persian Gulf. Barak spoke shortly after meeting with Admiral James Winnefeld, Vice Chairman of the Joint Chiefs of Staff, who is visiting Israel.
"Israel retains its right to make sovereign decisions and the United States respects that," Barak said at an Atzmaut party gathering. "However, one should not ignore the impressive preparations by the Americans to counter Iran on all fronts."
Barak made the comments after he and Prime Minister Benjamin Netanyahu were briefed by U.S. Secretary of Defense Leon Panetta and National Security Advisor Tom Donilon regarding U.S. preparations for a possible confrontation with Iran.
A month ago, Haaretz revealed that Donilon presented Netanyahu with the details concerning the strengthening of U.S. forces in the gulf.
"As opposed to the Bush administration, the Obama administration is indeed carrying out steps in the gulf, transferring forces and preparing bases," a top Israeli official said. "There is an unprecedented U.S. deployment opposite Iran."
Barak said that while there are differences between the Israeli and U.S. points of view on Iran, "the U.S. is our most important ally. The intelligence cooperation and security backing Israel receives at present is exceptional in its scope."
Barak's more moderate remarks follow Netanyahu's more temperate statements earlier this week. Barak said on Monday that if the world outlined "clear red lines" for Iran, the chances of war would be reduced. Netanyahu refrained in recent days from mentioning Israel's right to self=defense or making any other remark which might imply that Israel was planning to bomb Iran.
Row over Israel mars second day of convention as party moves to add back 'God' and 'Jerusalem' language to platform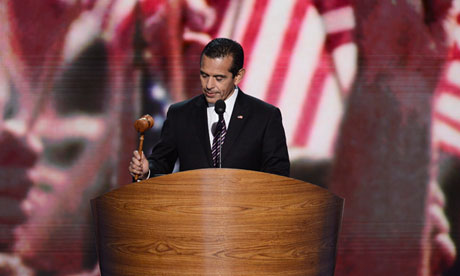 Antonio Villaraigosa, mayor of Los Angeles, opens the second session of the Democratic national convention. Photograph: Tannen Maury/EPA
The Democratic national convention in Charlotte has been plunged into chaos with a row over Israel threatening to overshadow Bill Clinton's speech as the second day of business was mired in a clumsy and embarrassing climbdown.
Barack Obama intervened personally to try and head off a mounting clamour from Jewish donors and pro-Israel groups who objected to the dropping of a line supporting Jerusalem as the capital of Israel from the Democratic policy platform.
A day after the platform was published without the recognition of Jerusalem, the line was reinstated. Pressure had been building over not only the dropping of that statement – which was part of the Democratic party platform in 2008 – but also the removal of any reference to God in the document. Those omissions threatened to alienate both Jewish Democratic supporters and Christian swing voters.
But the reintroduction of the lines was equally controversial; its clumsy handling resulting in a confusing vote and booing on the convention floor.
At the formal opening of the day's business, the convention chairman, Antonio Villaraigosa, proposed a vote to return to the document its past commitment to Jerusalem as the Israeli capital as well as a reference to God.
He called for those in favour of the change to shout 'Aye' and those against 'No'. It was a hard to tell, with the two sounding evenly-divided. Villaraigosa called the vote a total of three times to no certain result but eventually called it for the Ayes.
In fact, the change required a two-thirds vote in favour and it definitely did not sound anywhere close to that. But Villaraigosa pushed it through anyway, determined to try to bring a speedy end to an awkward row. There was loud booing in the hall when he announced the changes had gone through.
Jewish donors, particularly in New York, and pro-Israeli lobby groups are generous supporters not only to Obama but to individual senators and members of the House, who are also facing election in November. The changes were pushed through after Obama contacted party leaders asking for their reinstatement.
Quoting Democrat sources, Jessica Yellin, CNN's chief White House correspondent, reported on Twitter that when Obama was told "God" had been removed from the platform, he responded: "Why on earth was it changed?"
The self-inflicted row came as party leaders were congratulating themselves on the smooth running of the convention's opening day on Tuesday. The Republicans pounced on the original omission as evidence that Obama does not fully support Israel. The subsequent booing on the convention floor was portrayed by right-wing commentators as "Democrats booing God".
Republican challenger Mitt Romney said omitting God "suggests a party that is increasingly out of touch with the mainstream of the American people."
He added: "I think this party is veering further and further away into an extreme wing that Americans don't recognise."
On Jerusalem, Romney's spokeswoman, Andrea Saul, said: "Mitt Romney has consistently stated his belief that Jerusalem is the capital of Israel. President Obama has repeatedly refused to say the same himself. Now is the time for President Obama to state in unequivocal terms whether or not he believes Jerusalem is Israel's capital."
The Anti-Defamation League, a pro-Israel organisation, welcomed the change but questioned why the reference to Jerusalem being the capital had been removed in the first place.
"We welcome the amendment referencing Jerusalem as Israel's capital and we applaud the DNC for listening and for being responsive to the concerns raised by supporters of Israel," said Abraham H Foxman, ADL national director. "But we are still troubled that it was removed, and it should never have happened in the first place. This has been a longstanding policy statement on the DNC platform going back decades."
The migrants became stranded at Israel's fenced border with Egypt
Israel has agreed to allow entry to three out of 21 Eritrean migrants who have been stuck on the country's desert border with Egypt for a week.
Under the deal the remaining migrants will return to Egypt.
Israel's initial refusal to grant any of the group admittance triggered court action by one rights group and intense criticism from bodies including the UN.
Israel insisted it would "continue the effort to return infiltrators to the countries of their origin".
The three Eritreans granted entry are two women and one 14-year-old boy. Those to be returned are all men, reports say.
They had been stranded since 30 August, apparently in between new and old fences constructed by Israel at the border.
Soldiers said they had provided them with food, water and shelter from the sun, but human rights groups said they were prevented from visiting the group.
Israeli statistics suggest there are some 60,000 Africans living in the country illegally, mainly from Sudan and Eritrea.
Petition postponed
Israel had initially refused to grant any access, with Interior Minister Eli Yishai explaining that "if we weren't steadfast, there would be a million people here".
This triggered a wave of criticism, with the UN refugee agency, the UNHCR, saying Israel had an obligation as a signatory to the UN refugee convention to allow access to asylum seekers and calling its refusal to do so "highly irresponsible".
The Israeli campaign group We Are Refugees lodged a petition calling on the state to allow the migrants entry, arguing that to send them back to Egypt would make them vulnerable to people smugglers.
The High Court considered the matter on Thursday but had postponed a decision.
Omar Shatz, an attorney working for We Are Refugees, told AFP news agency the Israeli decision to allow entry to three of the migrants, under humanitarian grounds, was "a way to shoot down the petition".
"Legally, it was obvious the state would have had to examine their asylum requests," he said, adding that the whole group should have been permitted entry and was still in violation of the 1951 UN refugee convention.
But Israel argues it is under no obligation to open its doors, saying in a statement that "there has been no determination by any international body according to which… Eritrean citizens are persecuted in Egypt or that their lives are in danger. Therefore, there is no legal obligation to allow entry to those who are near the fence."
Israeli Prime Minister Benjamin Netanyahu in a statement: "We are determined to stop the flow of the infiltrators. We have built a fence to achieve that goal… and we will continue our efforts to return the infiltrators to their countries of origin."
Many migrants seeking to enter Israel are fleeing conflict and some pay Bedouin tribesmen to lead them from Cairo through the Sinai desert into Israel.
The Israeli government has started building a 260km (160-mile) barrier on its southern border with Egypt, partly in response to the growing number of refugees.