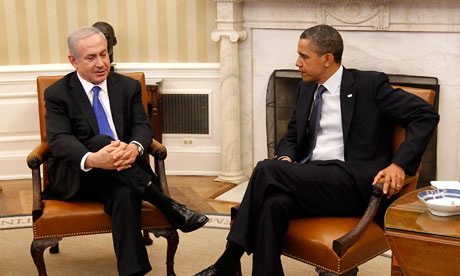 'It is now clear that Barack Obama and Binyamin Netanyahu disagree on Iran.' Photograph: Pablo Martinez Monsivais/AP
Over the last few days, Israeli newspapers have been consumed by reports that the prime minister, Binyamin Netanyahu, has decided to launch an attack on Iranian nuclear facilities some time this autumn. Although Netanyahu has an obvious interest in increasing pressure on Iran, it would be an error to regard these reports as simple rhetorical sensationalism. In my opinion, whether this year or next, Israel is likely to use its airforce to attack Iran.
While it is impossible to know for sure whether Netanyahu will act, it is possible to consider the likely repercussions that would follow an Israeli attack. While it is likely that Iran would retaliate against Israel and possibly the US in response to any attack, it is unlikely that Iran will instigate a major war. Albeit for different reasons, Iran, Israel and the US all understand that a war would not serve their interests.
First, the Israeli policy angle. If Netanyahu decides to order an attack on Iran, his focus will be on maximising the success of that action and minimising any negative consequences that might follow. In terms of Iranian retaliation, Israel would expect Iran's core non-state allies Hamas, the Palestinian Islamic Jihad and Hezbollah to launch rocket attacks into Israeli territory.
However, present success with advanced defence systems has helped increase Israeli confidence in their ability to absorb this method of retaliation. Beyond rocket attacks, the Israeli leadership also understands that a likely mechanism for Iranian retaliation is via attacks against Israeli interests internationally. Whether carried out by the Iranian Quds Force or Hezbollah, or a combination of both, various incidents this year have shown Israel that Iran continues to regard covert action as a powerful weapon.
The key for Israel is that, while these Iranian capabilities are seen as credible, they are not seen to pose intolerable threats to Israel. Faced with rocket strikes or limited attacks abroad – to which the likely response would be air strikes or short-duration ground operations (not a repeat of 2006) in Lebanon and Gaza – Israel would be unlikely to pursue major secondary retaliation against Iran. Certainly, Israel would not want to encourage intervention by Syria's Assad alongside Iran (an outcome that might follow major retaliatory Israeli action).
If Netanyahu does decide to take action, Israeli objectives would be clearly limited. The intent would be to prevent Iran from acquiring a nuclear capability while minimising escalation towards war. Israel has no interest in a major conflict that would risk serious damage to the Israeli state.
Though holding opposite objectives, Iran's attitude concerning a major war is similar to Israel's.
While Iran regards nuclear capability as prospectively guaranteeing the survival of its Islamic revolution, clerical leaders also understand that initiating a major war would make American intervention likely. Such intervention would pose an existential threat to the theocratic project that underpins the Islamic Republic.
Thus, in the event of an Israeli attack, Iran's response would be finely calibrated towards achieving three objectives:
• First, punishing Israel for its attack.
• Second, deterring further Israeli strikes and so creating space for a reconstituted Iranian nuclear programme.
• Finally, weakening US/international support for Israel so as to increase Israeli isolation and vulnerability.
Hezbollah, Hamas and other non-state allies would play a major role in effecting Iranian retaliation. Iran may also attempt to launch a number of its new Sajjil-2 medium-range missiles against Israel. Again, however, using these missiles would risk major retaliation if many Israeli citizens were killed.
As a preference, Iran would probably perceive that utilising Hamas and Hezbollah would allow retaliation without forcing Netanyahu into a massive counter-response. Crucially, I believe Iran regards that balancing its response would enable it to buy time for a reconstituted, hardened nuclear programme. In contrast to the relatively open current structure, sites would be deeper underground and far less vulnerable to a future attack. The nuclear ambition would not be lost, simply delayed.
As a final objective for retaliation, Iran would wish to weaken Israel's relationship with the US and the international community. This desire might encourage Iran to take action against US navy assets in the Gulf and/or attempt to mine the Strait of Hormuz, so as to cause a price spike in global oil markets and increased international discomfort.
However, beyond their rhetoric, the Iranian leadership understand that they cannot win a military contest against the US, nor hold the strait for longer than a few days. For Iran then, as with Israel, regional war is far from desirable.
Finally, consider the US. It is now clear that Obama and Netanyahu disagree on Iran. In my opinion, Netanyahu does not believe Obama will ever be willing to take pre-emptive military action against Iran's nuclear programme. Conversely, Obama believes Netanyahu's diplomatic expectations are too hasty and excessively restrictive.
The policy distance between these two leaders appears increasingly irreconcilable. If Netanyahu decides to go it alone and attack Iran, the US president will face the unpleasant scenario of having to protect American interests while avoiding an escalation dynamic that might spin out of control towards war. This difficulty is accentuated by Obama's re-election race and his fear of the domestic economic fallout that may come from the decisions that he might have to make. Again, the simple point is that the US government has no interest in a war with Iran.
If Netanyahu decides to take military action, he will do so in a strategic environment in which Israel, Iran and the US have no preference for a major war. Each state views the prospect of a war as counter to their particular long-term ambitions.
Because of this, while serious, Iranian retaliation would be unlikely to produce an escalatory dynamic leading to war. The leadership of each of these states will restrain their respective actions in the pursuit of differing long-term objectives but common short-term ones.
Former chief of Israeli intelligence Amos Yadlin writes in the Washington Post that Obama must visit Jerusalem and convince the Knesset and the Israeli public that the U.S. is committed to preventing the Islamic Republic from developing a nuclear weapon.
An Iranian woman points at an effigy of Israeli Prime Minister Benjamin Netanyahu in Tehran on August 17, 2012.Photo by AFP
U.S. officials say Israeli leaders are sincere about the need to act quickly on Iran, but they do not think Prime Minister Benjamin Netanyahu has made the decision to strike. Rather, the Israeli leader is trying to pressure the United States. "They are deadly serious, as is the president, about the need to prevent Iran from getting a nuclear weapon," a senior U.S. official told the Washington Post. "But there has been far too much talking — background leaks and fabrications — that hurt the cause."
On Saturday, Amos Yadlin, a former chief of Israeli military intelligence,called in a Washington Post article for President Barack Obama to visit Jerusalem in order to convey to the Israeli public that he is committed to halting Iran's nuclear program, including with military means.
"This message," he added, "delivered by the president of the United States to the Israeli Knesset, would be far more effective than U.S. officials' attempts to convey the same sentiment behind closed doors."
Yadlin, who today heads Israel's Institute for National Security Studies, still maintains ties with Netanyahu and his advisers, as well as with top security officials. His Saturday article echoes the words of newly-appointed Home Front Defense Minister Uzi Dayan in the New York Times on Thursday. Dayan, who spoke to the Times after meeting with Netanyahu and Defense Minister Ehud Barak, claimed that if Obama will publically expresses a commitment to stop Iran from obtaining nuclear weapons, Israel may shelf its attack plans for a few more months.
In his article, titled "For peace with Iran, prepare for war," Yadlin wrote that Israel will decide and act on its own regarding the Iranian issue on an attack on Iran. He stressed, however, that "what Israeli leaders may not fully grasp is that while they can attack alone, Israel will need the United States both the day after and the decade after a strike to ensure that Iran does not reconstitute its program." He added that "disregarding U.S. requests to delay would not encourage such support."
Yadlin went on to say that the only way Obama can convince the Israeli leadership to delay a military attack on Iran is to persuade Israel, the Gulf states and Iran itself that "a U.S. military option is credible and effective."
According to Yadlin, Obama must visit Israel and tell its leadership and public that preventing an Iranian nuclear bomb is a U.S. interest, and that if military action is necessary – it will be taken. "This message," he writes, "delivered by the president of the United States to the Israeli Knesset, would be far more effective than U.S. officials' attempts to convey the same sentiment behind closed doors."
With a growing sense in the West that Israel is seriously considering an attack in the coming weeks, EU foreign policy chief Catherine Ashton is scheduled to speak with secretary of Iran's National Security Council, Saeed Jalili, who headed the Iranian delegation at the talks with the six power.
Three rounds of talks between Iran and the Western powers ended in a deadlock. Blogger Laura Rozen wrote in the Al-Monitor website that Ashton, who represents the six powers in talks with Iran, is expected to meet with senior diplomats from the U.S., Russia, China, France, Britain and Germany in the coming days in Brussels, in order to update them on her talks with Jalili.
Prime minister's office says Shimon Peres should not speak out on Iran as he is too prone to mistakes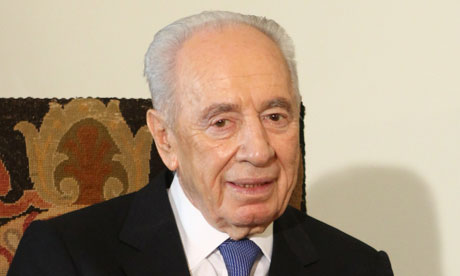 Israeli president Shimon Peres has been told not to step out of his role. Photograph: Khaled Desouki/AFP/Getty Images
The faultlines among Israel's leaders over whether to take unilateral military action against Iran's nuclear capability have deepened, with a prime ministerial aide launching a stinging public rebuke to President Shimon Peres after he said that the country should not act alone.
"Shimon Peres forgets what the role of the president of Israel is," an official from Binyamin Netanyahu's office was quoted in the Israeli media as saying.
The row – a stark example of the sharp disagreements at the heart of Israel's political, military and intelligence establishment over the issue – came as Iran's president, Mahmoud Ahmadinejad, said Israel's existence was "an insult to all humanity".
In a speech to mark al-Quds Day on the last Friday of the Islamic holy month of Ramadan, Ahmadinejad told a rally in Tehran that "the Zionist regime and the Zionists are a cancerous tumour" and warned against "one cell of them [being] left in one inch of [Palestinian] land in the future".
He added: "The nations of the region will soon finish off the usurper Zionists in the Palestinian land … A new Middle East will definitely be formed. With the grace of God and help of the nations, in the new Middle East there will be no trace of the Americans and Zionists."
The Iranian president has traditionally used al-Quds Day, on which rallies in support of the Palestinian people are held in many Muslim countries, to deliver invective against Israel.
His words will inevitably be used to bolster arguments in favour of military action to prevent a nuclear-armed Iran. Speculation has intensified recently that Netanyahu and defence minister Ehud Barak are considering launching action this autumn, before the US presidential election.
In an interview on Israeli television, Peres said: "It is clear to us we cannot do it on our own. We can only delay [Iran's progress]. Thus it's clear to us that we need to go together with America. There are questions of co-operation and timetables, but as severe as the danger is, at least this time we're not alone."
He said he was confident that the US would take action, but added: "My estimate is that they will not do this before the elections, which are more than 80 days away."
Following the remarks, Netanyahu's office openly attacked the president's judgment, suggesting three previous occasions when it had been wrong. The first, according to an aide quoted in the Israeli media, was after the Oslo accords were signed in 1993, when Peres "thought there would be a new Middle East". The second was following Israel's withdrawal from the Gaza Strip in 2005 when "he thought there would be peace … but in reality we got missiles".
The aide continued: "But Peres's biggest mistake was in 1981 when he opposed [Israel's] bombing of the Iraqi reactor. Luckily, prime minister Menachem Begin ignored him."
Peres later stood by his comments, saying: "I say what is in my heart with a loud and clear voice."
The president's views echoed those of many former and current military, intelligence and political figures in Israel. US officials have also made repeated efforts to dissuade Netanyahu and Barak from unilateral action.
Earlier this week, the US chairman of the joint chiefs of staff, Martin Dempsey, said that Israel did not have the capacity to eliminate Iran's nuclear programme. "I may not know about all of their capabilities. But I think it's a fair characterisation to say that they could delay but not destroy Iran's nuclear capabilities," he told reporters.
Some observers believe that the current frenzied speculation about a possible Israeli strike this autumn is aimed at forcing an unequivocal public statement in the coming weeks from President Barack Obama on America's willingness to take military action against Iran, should diplomacy and sanctions fail.
According to an opinion poll by the Israel Democracy Institute and Tel Aviv University, 60% of Israeli Jews are against a strike on Iran without US co-operation. Eleven per cent strongly support unilateral action by Israel.
15 AUGUST 2012
By Tomer Zarchin and Dan Even, Haaretz – 16 Aug 2012
More than 400 Israelis, including Tel Aviv University law professors Menachem Mautner and Chaim Gans, have recently signed an online petition calling on Israel Defense Forces pilots to refuse to obey if ordered to bomb Iran.
The petition calls a decision to launch a strike against Iran a "highly mistaken gamble" that would only delay Iran's nuclear program, without stopping it, and would come "at an exorbitant price."
You have the option of saying "No," the petition addressed to the pilots reads. "Certainly, this is not a simple option. It involves profound professional and moral dilemmas, and carries the risk of losing a career which is important to you and also the possibility of being prosecuted. Nevertheless, it is your duty to consider most carefully and seriously the possibility that by saying the little word 'No,' you will be rendering an important and vital service to the State of Israel and all who live here. This service would be infinitely more important than blind obedience to this particular order."
The petition cautioned that in the event an attack on Iranian nuclear facilities caused the dispersal of radioactive materials among civilian populations "Israel as a country, as well as those carrying out the bombing might be charged with war crimes."
Mautner said that he thought the petition should be addressed to the government rather than the pilots, but added that he signed it because sometimes, "One is asked to sign a petition whose intentions and main points you agree with, but not its entirety and not its wording."
He also said that according to his understanding of the law of war, "There is no legal problem with striking Iran." But Mautner said he agreed with many of the points made in the petition, especially with regard to the possibility of "very serious and far-reaching consequences" for Israel if it attacks Iran without U.S. cooperation.
Gans, in contrast to his colleague, believes an order to strike Iran without first having exhausted all other options to prevent Tehran from developing nuclear weapons would be illegal and unjustified. "It is clear that the consequences of such a war would be destructive in every possible way," Gans said.
Vardit Shalfi, who was one of the main figures behind the performers' petition in 2010 against appearing in Ariel, and Ofer Neiman, a left-wing activist and an editor of the online magazine The Occupation, initiated the petition.
Shalfi said that while there are many campaigns against war with Iran, "none of them appealed to the executive level, the pilots."
Meanwhile, members of the board of directors of Physicians for Human Rights – Israel, including senior doctors in Israel's health establishment, have sent a letter to Prime Minister Benjamin Netanyahu and Defense Minister Ehud Barak in which they expressed their fears about the consequences of a potential Israeli attack on Iran.
"If we liken the state to a ship, you are the captains gripping the wheel of power who are heading this ship and its passengers into an enormous iceberg," the physicians' letter said.